The UK Guide To Hospital Scrubs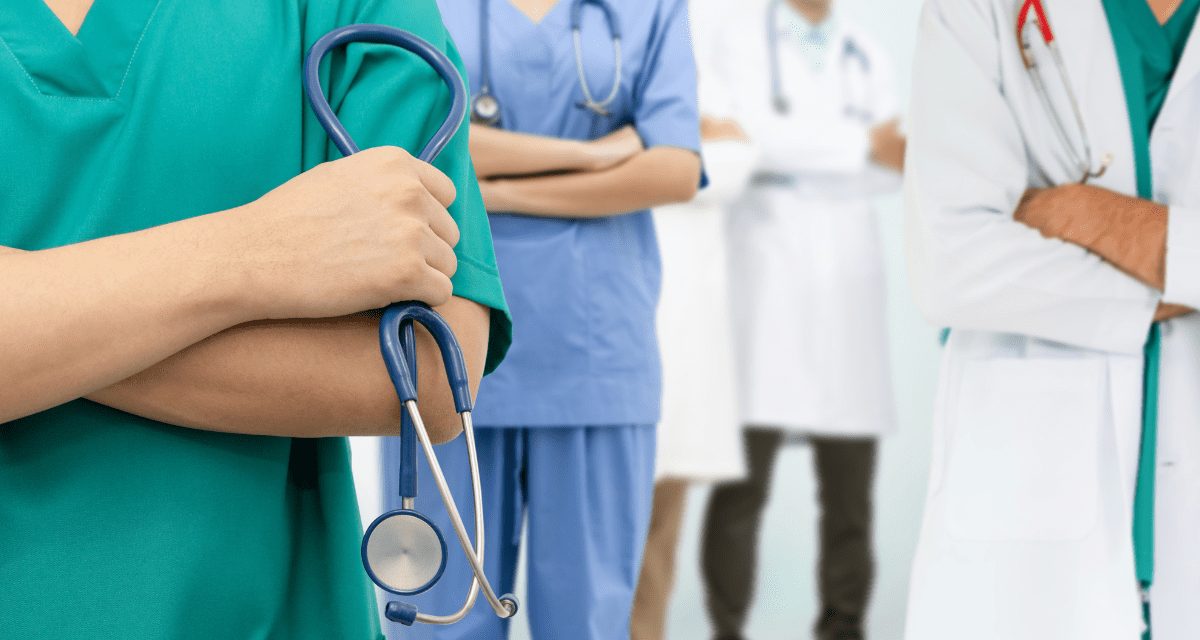 Scrubs worn in the NHS differ in each location, and across different Trusts. Typically, UK hospital scrubs are unisex, oversized and usually blue or green colour. You may have wondered what the different scrub colours mean, and who wears what. Learn more about hospital scrubs worn in the UK below.
Colour coding
Scrub colours may signify the department a person works in, the Trust they belong to, or their specific profession or seniority. At Interweave Healthcare, we stock 8 scrub colours: Mid Blue, Mid Green, Misty, Hunter Green, Cobalt Blue, Turquoise, Raspberry and Navy Blue. Our NHS and other medical customers quite often choose blue scrubs, which is why we offer 4 different blues to choose from.

Who wears what?
This is a difficult question to answer, as it can largely vary across different hospitals. The Barnsley hospital guide to identifying their staff shows that their doctors and consultants in A&E all wear green scrubs or uniforms. While emergency department nurses, healthcare assistants and advanced nurse practitioners each wear a different shade of blue.
University Hospitals Bristol's identification guide explains a similar situation, where emergency department staff nurses and sisters wear navy and royal blue scrubs to easily identify emergency staff. Scrubs worn in emergency departments and others will usually be a shade of blue or green. These colours are calming and are likely to be what patients expect staff to be wearing.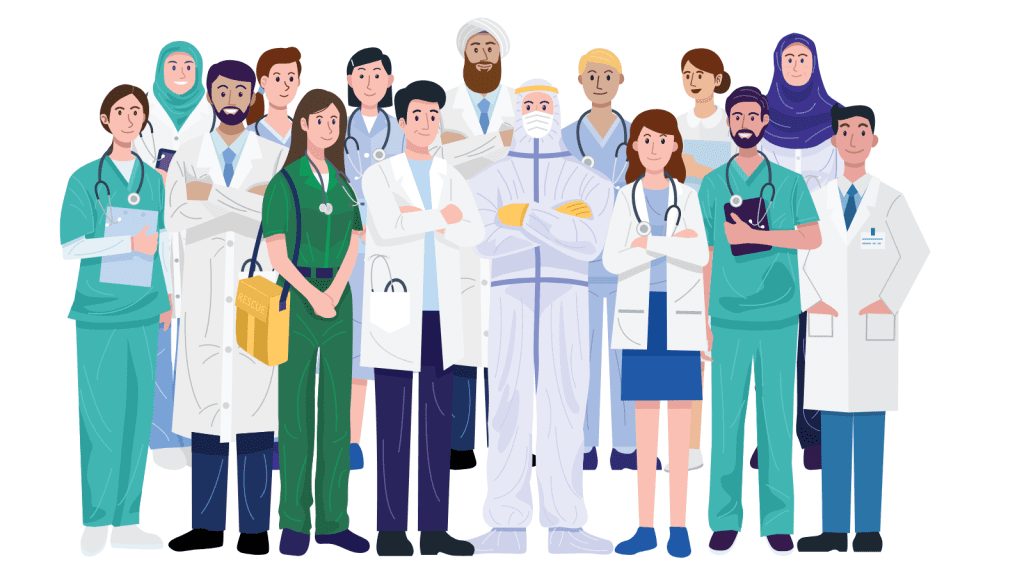 You may notice that scrubs are mainly worn in the emergency departments of hospitals. A&E staff need access to clean uniform that is breathable and durable, due to the fast paced nature of emergency medicine.
Many hospitals will have a large supply of scrubs in a variety of colours and sizes for emergency medicine. Whereas other medical professionals in the hospital may wear uniforms such as tunics or smart clothing.
Interweave scrubs
No matter what you are buying scrubs for, your Trust, your own practice or business, or simply for yourself. You can find scrubs in sizes XS-3XL, in 8 popular colours. Purchase a set, or individual top and trousers to mix and match your size. If you are ordering for a large team, take advantage of our quantity discount.
Identifying staff in hospitals
The answer of who wears what in hospitals and other medical facilities is one we cannot provide a straightforward answer to. It can vary in different ways, the best way to identify staff if you are unsure is to ask.
Typically, you will see shades of blue and green scrubs in hospitals. As well as white coats, smart dress, or tunics with different coloured piping. If you are starting work in a hospital, your specific workplace will provide you with your uniform guidelines.
---
Read more from us…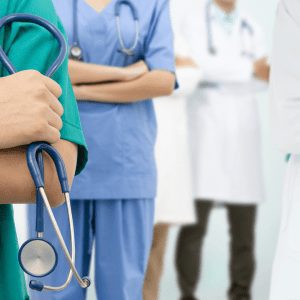 The impact of NHS staff leaving healthcare
CO2 reduction in slipper socks manufacturing process
Fun design for children's hospital gowns