NHS Waiting Times 2023
In 2021, we published a blog post titled "Understanding NHS Waiting Times". Looking into the facts and figures about waiting times and the impacts of Covid-19 on diagnostic testing and nhs wait times.
Much has changed since this post. Mass resignations of healthcare staff, strike action and disputes over pay have influenced NHS wait times in 2023. Join us as we find out more about how waiting times for NHS patients have changed in two years.
Waiting lists in 2023
NHS wait times were announced to be a top priority by the Government for 2023. In 2022 the NHS's elective recovery plan was published, focusing on tackling the waiting lists in England. After the peak of the pandemic, the NHS now has to face the backlog of referrals for tests and treatments.
As of January 2023, NHS England published news that NHS waiting list has fallen for the first time since the start of the pandemic despite A&E being busier than ever. However, the IFS reported that that in the 10 months since the publication, the NHS treated 5% fewer patients from the waiting lists than in the same period in 2019.
So, what is happening to NHS waitlists this year?
Diagnostic testing
In 2021, one of the main areas we looked at was the waiting list for diagnostic testing. A report published in January 2023 finds a general increase in waiting times, bed occupancy and A&E waiting times. Overall, although more people are waiting than ever. We can see that diagnostic testing is increasing to try and meet this demand.  With funding issues, Covid-19 and staffing problems, this is an expected rise.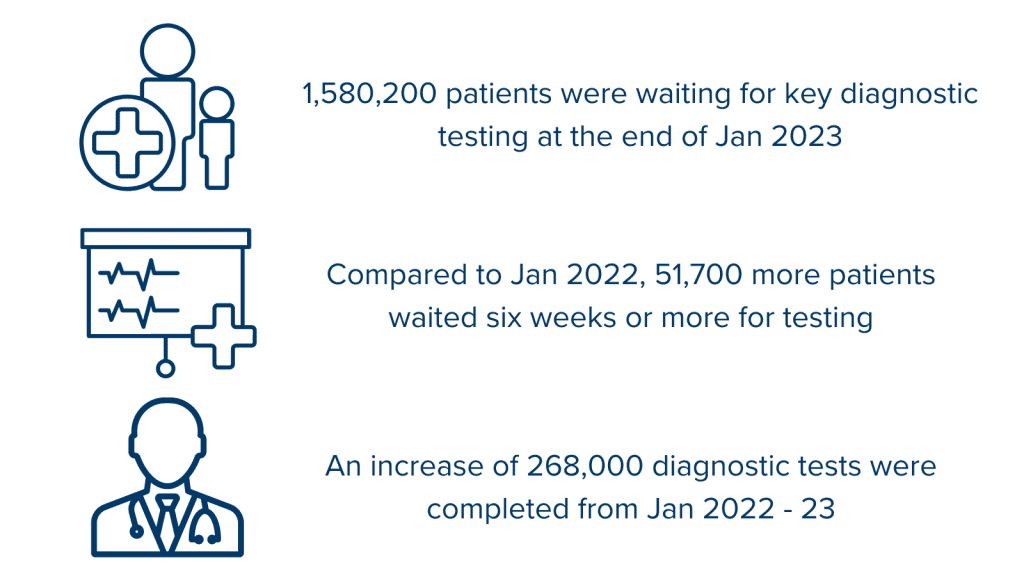 New data
Covid-19 is still a large impact on the NHS waiting times, A&E and bed availability. The waiting list for hospital treatment rose to 7.2 million as of January 2023, a record high. What else are we seeing in 2023?
The 18-week treatment target has not been met since 2016.
In December 2022, the 62 day waiting time standard for cancer treatment was at a record low, only 54.4% of patients waited under 62 days compared to the target of 85%.
Of over 7 million patients waiting for treatment, 3 million are waiting over 18 weeks.
379, 245 of these patients are waiting over a year for treatment
Median waited time for treatment is 14.6 weeks, compared to 8.4 weeks in January 2022.
A&E waiting times
A record number of patients attended A&E in December, an enormous 2,283,196 patients. Throughout December, more than 9 in 10 beds were occupied in hospitals, highlighting the huge demand medical staff are facing.
The pandemic decreased the number of patients visiting A&E as more people stayed at home. As patients only attended A&E in serious situations, this allowed more of them to be seen within the four target at this time. Interestingly, attendances in A&E actually decreased from Jan 2023 to Feb 2023, but is still seeing a huge 1.91 million patients. While attendances may be lowering, the number of patients is still significantly higher compared to previous years.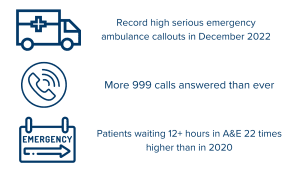 Why are wait times up?
While progress is being made in several areas, and the NHS "continues to deliver on the most ambitious catch-up programme in its history". There are more people on the waiting lists for treatments and testing than previous years.
Covid-19 is still likely the largest reason for this backlog. Catching up on referrals, testing and treatments will take time. With almost all beds occupied in many hospitals, finding the space and the staff to perform these tests and treatments is another massive challenge for the NHS.
The lack of satisfaction with support and pay across many healthcare professions, leading to decreasing staffing levels of nurses, doctors and more declining also has a notable impact on waiting times.
---
Read more from us…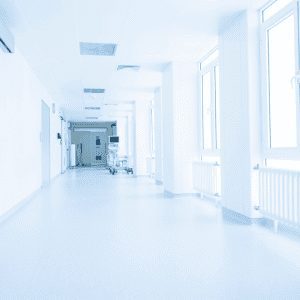 Fun design for children's hospital gown
The impact of NHS staff leaving healthcare
Checklist: Things to pack for an overnight hospital stay
Introducing bariatric gripper socks
---
Sources
---