Caring for someone with coronavirus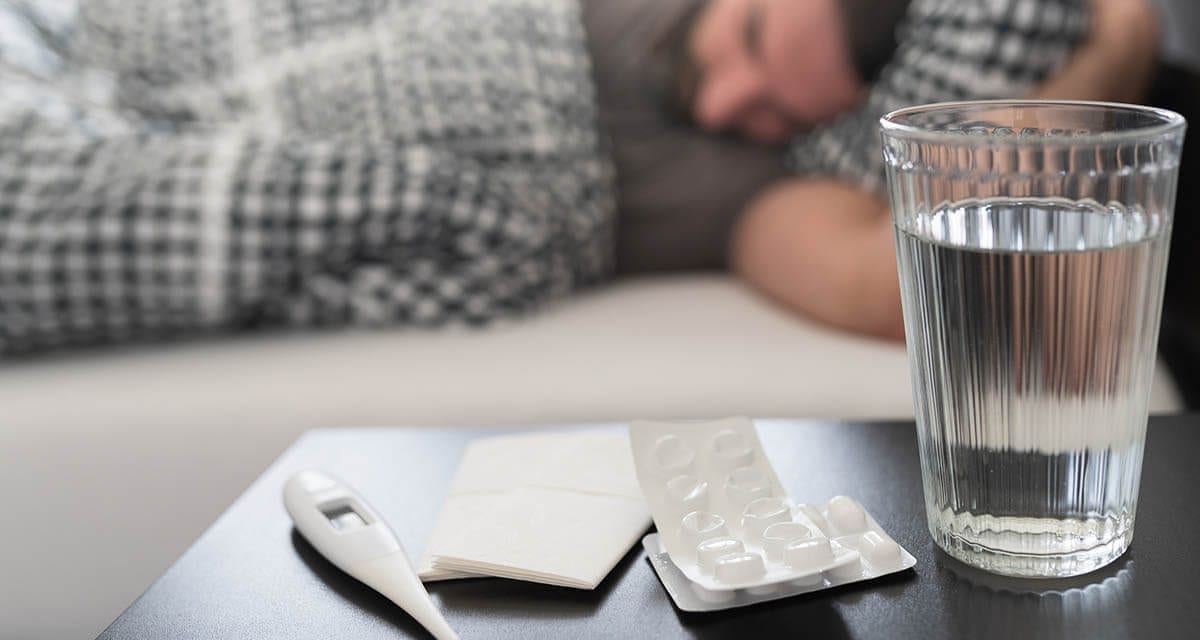 When someone you care for becomes unwell, it's always worrying. Especially so at the moment, while we deal with the Novel Coronavirus (Covid-19) pandemic. This article outlines some things you could consider.
Check the symptoms
If the patient is coughing and feels feverish, firstly check their temperature. A body temperature over 37.8 °C or 100 °F is classed as a fever. Be careful to place the thermometer in the right place for that particular thermometer – some are designed to be placed under the tongue, others are ear thermometers and some are to be placed in the armpit.
Common Covid-19 symptoms include persistent dry coughing, a high temperature as well as extreme fatigue. Check this table which compares the symptoms of Covid-19 with the common cold and flu.
Then, if you think a coronavirus infection is likely, work your way through the online NHS 111 Coronavirus form. This form will ask you to enter the symptoms and will advise on the next steps to take.
Social distancing & self isolation
Once you have confirmed that the person you are caring for is likely to have Covid-19, you'll need to change the way you provide care.
The NHS and Government guidelines state that an infected person should self-isolate for 7 days.
This means that they should stay in their own room and use a separate bathroom to everyone else, if possible. You need to stay at least 2 metres (6 feet) away from them, to avoid the droplets infecting you.  For example, when providing food and drink, leave it outside the door to their room for them to collect when you have moved away from the door.
If you have some personal protection equipment on hand, such as disposable face masks, plastic aprons and disposable gloves, wear these whenever you enter their "space" and be careful not to touch your face whilst wearing the mask and gloves. When you have used your protective equipment for one "episode of care", these should be disposed of and new ones used the next time you come into close range of the patient.
Sometimes, caring for the patient at home isn't viable, for example if they are struggling to breathe. In this case, you should refer to NHS 111 Coronavirus guidelines and call for an ambulance.
If your patient is struggling to understand the seriousness of remaining in self isolation, try showing them this easy to read guide produced by Public Health England.
Coronavirus treatment
At the time of writing this article, there's no known "cure" or treatment for coronavirus. It's a viral infection, not a bacterial infection, so antibiotics won't work. A healthy individual with no pre-existing medical conditions should find that their immune system will get rid of the disease without any external help.
What you can do as a carer is work on treating the symptoms to make the patient more comfortable. For example, offer paracetamol for headaches, aches and general pains and fever.
The advice from the NHS and from medical authorities overseas, such as CDC, is to ensure the patient has lots of rest and stays hydrated.
It's also important for the patient and carers to frequently wash their hands with soap and water or hand santiser. The lipids in the soap deactivates the virus by breaking down the outer layer of the virus cell. You don't need to use special anti-bacterial or anti-viral soap, any soap will work in the same way.
Don't forget to provide a waste bin for the patient to put used tissues in, after coughing and sneezing, to contain the bug.
Following this advice, the majority of people will recover and feel a lot better after a few weeks.
Fact or fiction
Be aware of supposed cures or treatments that are making the rounds on the internet. Here's a list of some coronavirus myths to be aware of.
Watch this interesting explainer video to find out more about what scientists know about Covid-19 so far.
Appropriate bedding
Having a patient who is self-isolating and suffering from extreme fatigue will mean that they are mostly lying in bed. Bedding will need to be comfortable but practical. Remove and put away any bedding that can't be washed at 60°C or higher.
Make the bed with durable polycotton sheets and polycotton pillowcases that can be washed at hot temperatures, along with polyester cellular blankets. Use a soluble laundry bag to keep the contaminants contained. Or you could use disposable bedding, such as non woven bed sheets and non woven disposable pillowcases to avoid laundering the bedding. Simply place the used disposable bedding in a bin bag, seal up and dispose of as normal.
You might also find that using wipeable pillows on the bed makes the disinfection task much easier and more effective.
Washing and cleaning
In addition to frequently washing hands with soap and water, carers also need to stop touching their faces so that any lingering virus cells on hands aren't passed on.
All plates, cups, glasses and any other communal items used by the patient must be washed separately in very hot water and washing up liquid.
Clothing and bedding used by the patient should be laundered straight away in a separate wash to other dirty laundry to prevent cross-contamination. Some laundry experts recommend using a 60°C washing cycle to ensure thermal disinfection. Read more: What is thermal disinfection?
Finally, always look on the bright side of life..
Keep yourself and the patient cheerful and as positive as possible to help you get through this difficult time.
If you are active on social media channels, try to avoid the bad news and focus on finding funny stories and jokes.
Set up video chats with friends and family to stay in touch, for example Facebook messenger has a built-in multi-person video chat option.
Share Covid-19 recovery stories with the patient, such as the 101 year old man in Italy and a diary of a British 28 year old coronavirus survivor. Also in the UK, read about the 98 year old war veteran who made a full recovery
Further reading – Helpful guides
More useful information can be found here:
Public Health England – Guidance for care homes
---
Read more 
COVID Shielding Caused Increase In Elderly People Falling
---