Carers need care too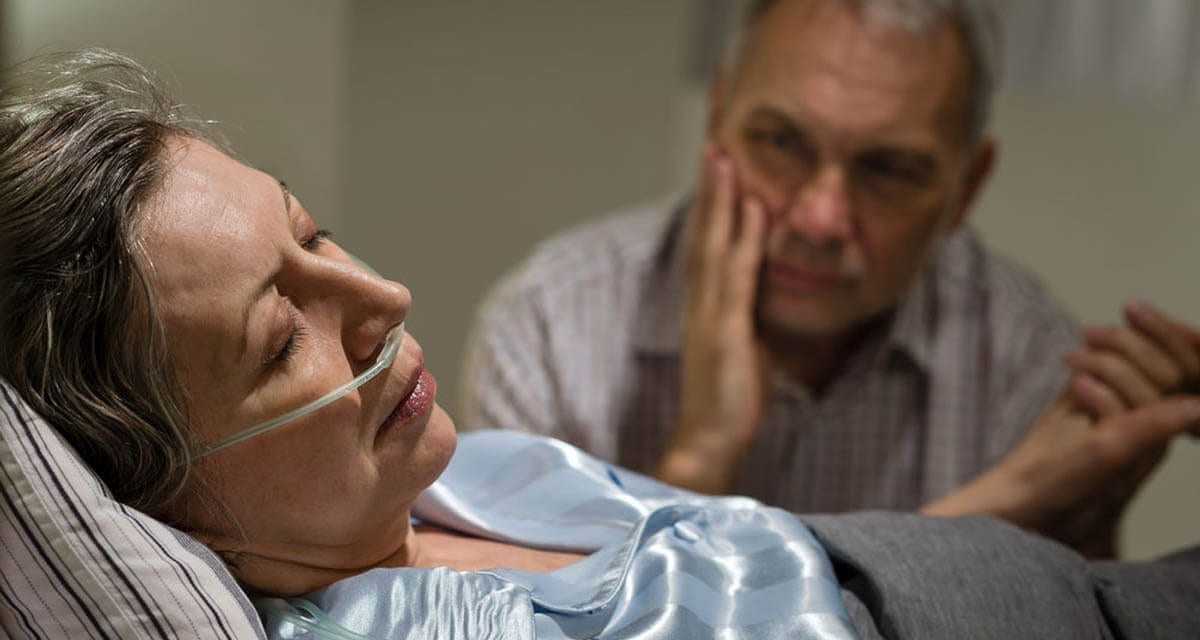 We whole-heartedly applaud the compassion and energy that carers spend in their day to day jobs. These are people who look after a relative, friend or neighbour who couldn't manage without them. That's why we focus our textile business on working "To help you care".
In this article, we explore how carers cope with the demands of their responsibilities, and we look at what support there is available to make life a little easier.
How many carers there are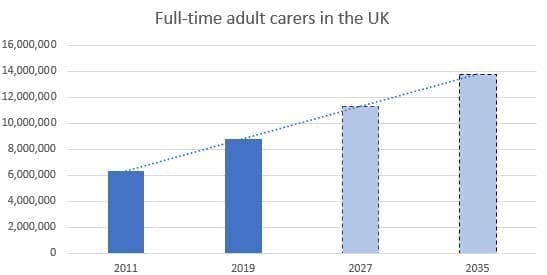 2019 – 8.8 million adult carers (Source: Poll by Carers UK)
2011 – 6.3 million adult carers (Source: Govt census)
That's a 40% increase in 8 years! If this continues at the same rate, there will be 13.8 million adult carers by 2035.
Put simply, in the last 8 years, 850 adults left paid work every day to become a full-time carer!
Issues faced by unpaid carers
Care workers, such as staff in a care home, employed live-in carers and disability support workers, generally work a set number of hours per week and are paid a wage. This makes the role more palatable and in most cases this enables the carers to look after themselves too.
However, carers who are unpaid have a particularly difficult job. Due to working long hours, having to undertake strenuous manual handling & lifting with no additional help; coupled with the lack of income, it's not surprising to find out that it's commonplace to suffer with a combination of loneliness, poor health and cashflow problems.
Here are the top 6 issues faced by unpaid carers:
Struggling financially
Poor health
Not enough time outside of work
No/little leisure activities
No time with own friends
Stigma of being a carer
Support options for carers
If financial stress is a concern, Carers Allowance can be claimed by adult carers who work 35 hours a week or more, if they are caring for someone who gets a qualifying disability benefit.  Find out more about the Carers Allowance.
There are also some other financial support options. These are worth exploring to see if the caring situation qualifies. Find out more.
Practical support that carers find they need includes using specialist equipment in the home such as grab rails, rota cushions and bed ladder straps.
Carers also seek help from family and friends, technology and gadgets such as alarms, sensors and remote monitoring devices, help from other care workers, hiring or buying a Motability vehicle etc.
Probably the one thing that carers don't do enough but should do more often is finding a relief carer to let the primary carer take a well-earned break for a day or more.
Self care for the carer
Staying healthy is difficult when you're busy during the day and tired after work. Working within some basic guidelines and keeping things simple may mean you manage to achieve at least some of it. Diet, exercise, sleep and social connections are the areas to focus on. Remember, carers need care too!
Diet is hugely important for carers. You need energy and focus to be able to provide the right level of care. Eating a healthy diet means different things to different people, but keeping your food fresh and varied definitely helps. Learn some 10 minute meal recipes and try to cook those from scratch, cooking up large batches of food whenever you can so that you can pop some portions in the freezer for another time.
To stay fit, introduce mini-exercise routines into your daily work, by taking 5-10 minutes stretching and flexing while you're doing another task, e.g. while cooking for the person you're caring for or while doing cleaning tasks.
Everyone experiences poor sleep at some stage or other. The more stressed a person is, the worse quality sleep they will have. To correct this, establishing a sleep routine will help, for example taking a brief hot bath every night if you have time. Or simply using layers of comfy, warm thermal throw blankets or a weighted blanket on your bed to ensure maximum comfort.
One of the key issues that an adult carer reports as a worrying problem is loneliness. Being busy caring all the time, with little or no spare money means that the carer has very little opportunity to be social. However, there are Facebook groups that carers can join to share experiences with other carers, this may help to remove the isolation and costs nothing. If online chatting seems daunting, reaching out to talk to neighbours and other people around you can be tricky to get started but rewarding once you get in the rhythm of it. Perhaps suggest starting a book club, or brewing club to give you something in common to chat about.
Be back-safe
Moving people around by yourself can cause lots of back issues even when using professional patient handling equipment such as slide sheets or handling belts. To save the pain of a strained or injured back or neck and the resulting time away from caring – it's vital to undertake some professional training for each piece of equipment that is used.
In some cases you may need to ask another person to assist you in a particular manual handling movement. For example, lowering someone into the bath or moving someone from lying down to sitting up can sometimes be too difficult for one person. Schedule these difficult, potentially back-damaging, tasks for a time when you can arrange for some additional help to be available.
Caring for the carers
Keep up to date with the current state benefits and how you can request support for yourself by following Carers UK on social channels and by registering to receive their emails.
You may also want to note the following dates in your calendar. The next annual Carers Rights Day is on 21 November 2019 and UK Carers Week is 8-14 June 2020.
---
Read more 
Benefits Of Music In Care Homes
Covid Shielding Caused Increase In Elderly People Falling
Raising money for Save the Children
---