Well-designed hospital gowns – a game changer?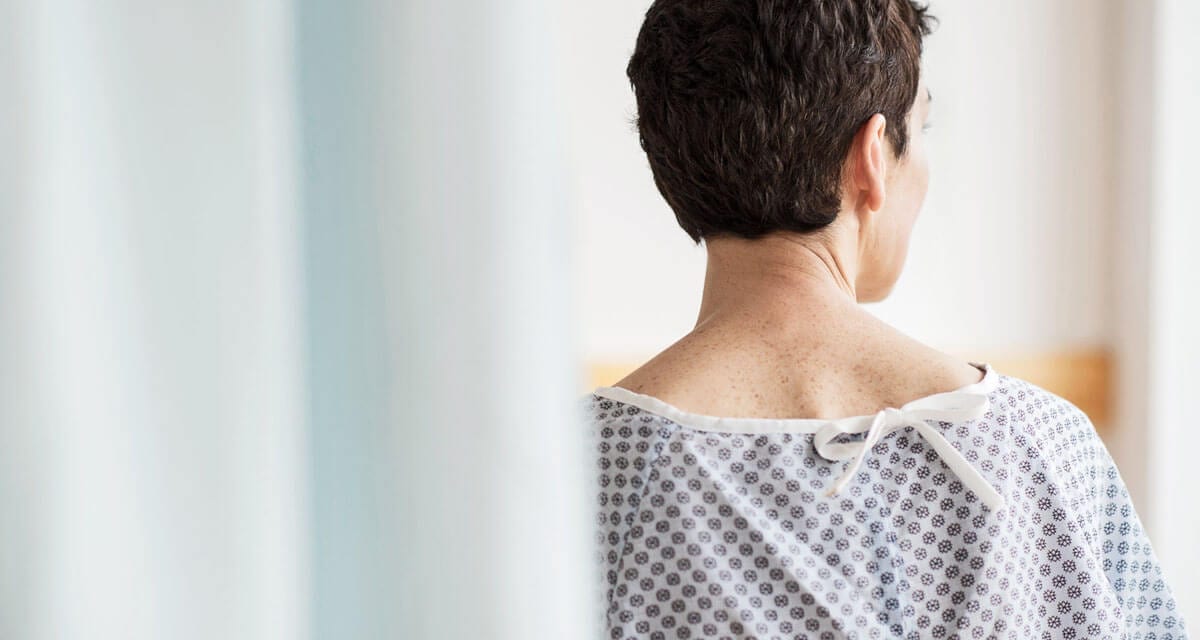 Inspired by a conversation on Twitter this week, we explore the anxiety associated with patients having to wear traditional hospital gowns. There are many reasons that hospital gown design causes widespread grimaces from all concerned. Consultants, nurses, patients and patients' family members all say they want a game changer.
The problem doesn't lie so much in the inevitable need for hospitals to provide something for patients to wear during medical exams and procedures. But, the issue is more related to the traditional hospital gown design being unsuitable and simply not fit for purpose.
The open back style of the traditional gown leaves the patient showing an indecent flash of flesh. This causes many patients to report feeling vulnerable – as if going to hospital isn't worrying enough! Something has to change.
What do consultants think
On Twitter this week, the Interweave social media team chatted with some NHS consultants, medical specialists and nurses about the current situation.
One nurse suggested that a campaign should be started to #banthebottom! We're right "behind" this – we totally agree with this sentiment.
The general feeling amongst medical professionals is that they strongly dislike the cheaper, less effective gowns. Some recounted stories of their own personal humiliation when having to wear an "old draughty" hospital gown.
There was some discussion about the need to maintain an antimicrobial environment and gowns were a good way to achieve this. Others explained the need to provide something to wear so that patients' own clothes weren't lost in the hospital laundry.  But all of this just skirts the main issue that it's not the provision of a gown that's the problem – it's the hospital gown design that's to blame.
Patients are people too
Obvious really, but sometimes this fact can be overlooked by procurement teams scouring supplier catalogues for the best price for 100 gowns.
That said, patients have low expectations. They go into hospital expecting to be humiliated. They expect to have to wear a gown that exposes them, made of scratchy and potentially see-through fabric.
However, it can also almost be a sympathy badge that some like to claim. These patients take a selfie in the gown to prove to their friends what they're going through. They shamelessly post on Insta and Twitter: "Look at me in my hospital gown, do I still look cute?!"
Workarounds
Following our investigation on Twitter, we learnt that UK hospitals providing unsuitable gowns use different workarounds. With the idea of making the situation a little more comfortable for patients. We heard that some hospital staff tell patients to wear two gowns as a time. Put one on at the front, and another at the back to cover the gap. Uncomfortable and a ridiculous waste of laundry efforts.
Others reported that at their hospital, they provide patients with hospital PJ bottoms to wear underneath the gown. This would suggest that either the gowns are too short, or the fabric too thin.
Some hospitals provide a hospital dressing gown to wear on top of the hospital gown. Again, a case of a second piece of clothing being provided when one would do.
Surely the extra cost of providing a 2nd piece of clothing and laundering both after use, would be a waste of money. The spend on these workarounds can add up to more than the cost of investing in the right gown in the first place.
Good design = the game changer?
So, what does good design look like? As far as the dignity aspect of hospital gowns go, we know that patients need full body coverage to be comfortable. Equally important is an easy method of tying or closing the gown.  However, the original purpose of a gown is to allow access to the body during medical procedures. Therefore there must be enough loose fabric to enable medical professionals to do their job.
Interweave's selection of hospital gowns includes:
| | |
| --- | --- |
| | The Dignity Gown – Designed in collaboration with TrusTech approximately 10 years ago, this fully reversible gown can be worn either with the ties at the front or at the back. The short butterfly sleeves allow easy access for IV drips to be attached. |
| | The Three Arm Toga Gown – A unique hospital gown design that doesn't need any poppers or ties. Simply wrap the gown fully around the body, then wrap another width around and slide the "third arm" on. Ideal for Xrays, MRIs or CT scans. |
| | The Lapover Gown – This best selling gown features a wide wrap-over panel at the back and colour co-ordinated ties to make closing the gown easier. However, some patients will find that they need some help fastening it. The fabric is a good thickness and there's no gaping holes to worry about. |
Cost benefits of good design
Spending your budget on the wrong hospital gown style and having to supplement it each time with an additional item of clothing is not a good procurement decision.
However, investing a little more on the right hospital gown design in the first place, will save money and ultimately also save ongoing laundry costs.
If you're buying in bulk, we recommend that you ask our customer service team for a quote on one of the three gowns featured in this article, you might be surprised how much you will save.
Thanks
Many thanks go to @mancunianmedic on Twitter for starting this conversation. You can read his report on this topic to find out what he thinks.
---
Read more 
What Will Hospitals Be Like In 50 Years?
---