Do Slipper Socks Help Prevent Falls?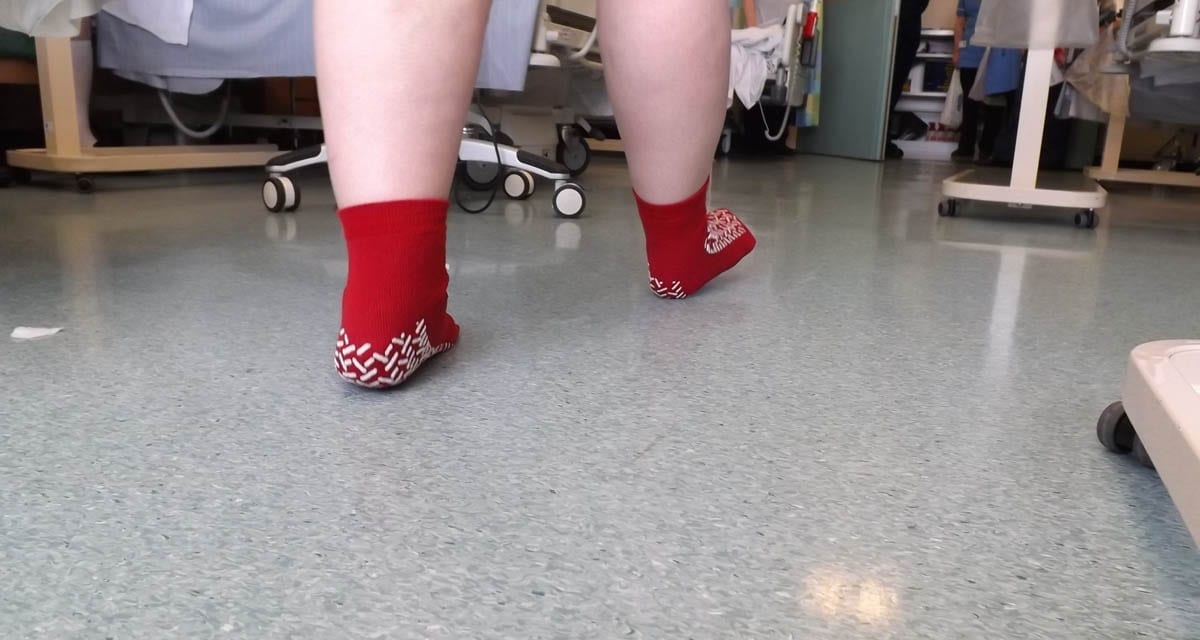 Public Health England statistics show that a third of people aged 65 and older have a fall at least once a year. There are many different factors that contribute to the risk of having a fall. As such, there is no single solution that can be put in place to prevent falls, as this comprehensive Prevent Trips & Falls article explains. One of the steps suggested to implement fall prevention in hospitals is to provide appropriate footwear for patients and residents. A budget friendly solution that many hospitals now use is non-slip slipper socks. The question is, what impact do slipper socks have on the fall prevention rate?
Why is a solution needed?
Falling is a cause of distress and anxiety, especially for people who are at high risk. Falls can cause pain, injury, and loss of confidence. As a result of a loss of confidence, many people lose part of their independence. There is also a significant effect on health services, as well as the effect falls have on victims.
In 2013 to 2014, there were around 255,000 emergency hospital admissions related to falls among patients aged 65 and over. Following an admission to hospital, the risk of a repeat fall is extremely high. Falls in hospital are the most commonly reported patient safety incident, with more than 240,000 reported in hospitals and trusts in England and Wales. As well as causing injury and distress to patients, there is also a material impact to consider.
What is the cost?
Patient falls in hospitals cost the NHS more than £2.3 billion per year. The National Institute for Health and Care Excellence (NICE) recommend that patients at risk of falling should be considered for a multi-component falls risk assessment – using the points below to determine their level of risk.
Gait, balance and mobility, and muscle weakness
Osteoporosis risk
The person's perceived functional ability and fall-related fear
Visual impairment
Cognitive impairment
Urinary continence
When considering all the factors that need assessing in order to effectively prevent falls, it is little wonder that there is no one intervention that can be made to prevent falls entirely. One part of the solution is providing fall risk patients with appropriate footwear. One cost-effective way to introduce appropriate footwear is through the implementation of non-slip slipper socks. When compared to standard socks, slipper socks have been shown to significantly improve gait performance in at-risk patients. An improved walking gait is one of the factors that reduces the likelihood of a fall. In a multifaceted problem, like trying to prevent unnecessary falls in hospitals, step by step improvement is the key to success.
What are the options?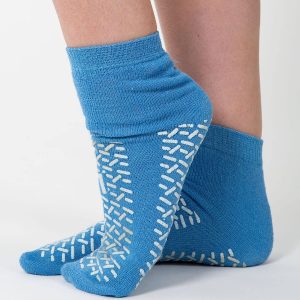 There are many kinds of non-slip socks available, depending on what level of support is required. Interweave offers three variations in a range of colours and sizes, in double tread, fall prevention and bariatric size.
We offer a full range of double tread slipper socks. These have a silicone tread on both the top and bottom of the sock. As a result, continuous grip is maintained for at-risk patients and residents even if the socks twist around on the feet. Additionally, we have a range of fall prevention slipper socks. These are made from a very bright yellow stretchy fabric to ensure that staff can immediately discern which patients are a high fall-risk. As with the double tread, fall prevention socks feature the non-slip tread on the top and sole of the slipper sock. You can also purchase double tread socks in a bariatric size, with extra stretchy mesh netting to provide comfort to patients with ankle and leg swelling.
Slipper socks are used in nursing homes and clinics for the elderly and infirm to help prevent accidental falls. Comfortable and easy to use, non-slip slipper socks are an inexpensive and convenient solution for healthcare providers and nursing homes. In contrast to other suppliers 'one size fits all' slipper socks, we offer a full XS to 3XL size range therefore there is less chance of excess material causing a trip or fall hazard.
What do our customers say?
Our customers know that the implementation of slipper socks in their hospitals and trusts is key to reducing the number of inpatient falls. The quality of our slipper socks is reflected in what our customers have to say. The Coalville Community Hospital said that our slipper socks 'keeps patients feet warm and helps prevent slipping'. Trafford Council told us that our slipper socks are made from 'quality material'. We make our slipper socks from stretchy polycotton that fit the feet comfortably. They are completely latex free, with a silicone tread that effectively helps to prevent slipping. Based on our reviews, then, it's clear that the use of non-slip slipper socks can reduce the fall prevention rate.
---
Read more 
Benefits Of Music In Care Homes
---