What is Oedema?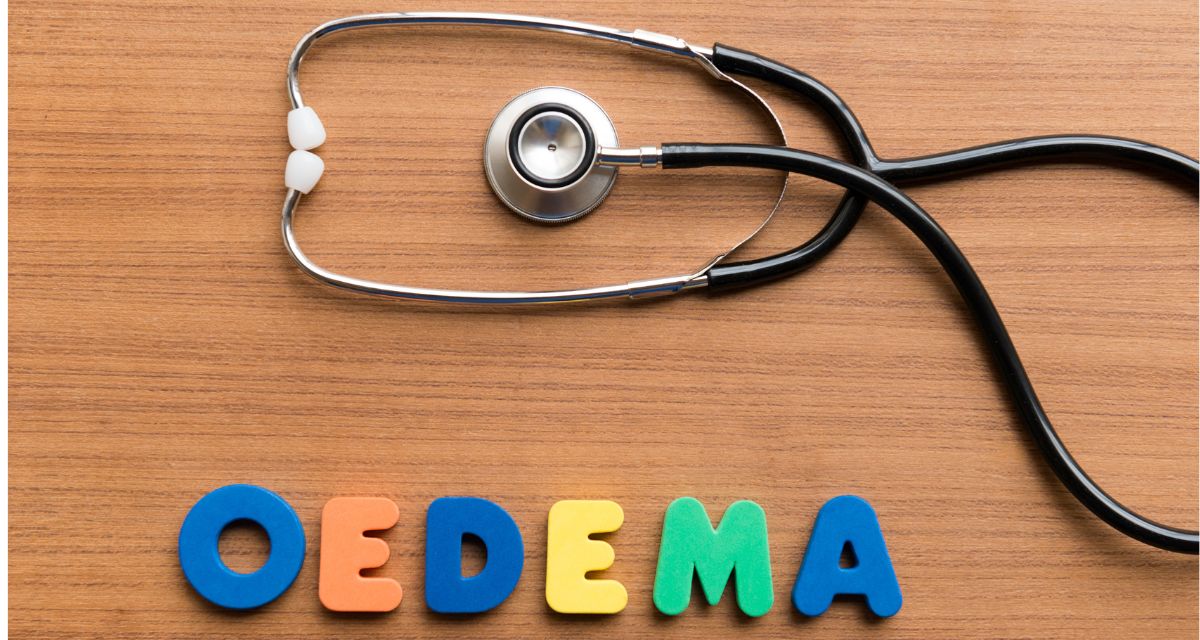 Perhaps you are wondering, what is oedema? Oedema is a swelling condition, which can affect a variety of people. It is a fluid retention condition where fluid can leak out of damaged cells in the body. Many people can experience a mild case of oedema, caused by things such as standing or sitting in the same way for too long. It can be from pregnancy, or medications. We explore the condition, its causes, and treatments. Or shop oedema bariatric socks.
What does oedema look like?
Symptoms of oedema may vary from person to person, and change with severity. Oedema may look like swollen or puffy ankles, legs or feet. You may notice your skin looks stretched or shiny. You may also find a change in skin colour, redness, stretched skin, or dents in the skin. Mild oedema may look like simple swelling, and not cause any additional visual symptoms.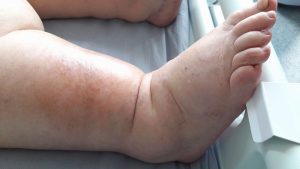 [pictured: more advanced case of oedema]
What is oedema and what causes it?
There are lots of causes , whether it be medical or environmental. Environmental causes are things such as eating too much salty food, standing or sitting in the same position for a long period, or perhaps an injury or insect bite.
However, it can also be caused by taking certain medication, being pregnant, being overweight. In some cases, it is caused by varicose veins, kidney, liver or heart problems, blood clots or infections. It is important to monitor your swelling and keep an eye out for additional symptoms.
Can you reduce oedema?
For mild and early oedema, you may want to try some techniques at home to reduce swelling. You can try raising your legs above your heart, such as on pillows. If you are able, some gentle exercise such as walking can help blood flow. Always wear good fitting shoes or socks, avoid high heels or platform shoes.
Avoid sitting or standing in one position for too long with swelling, this can cause further swelling and sometimes pain. Wear loose fitting clothes, and ensure shoes are well fitting and not too tight.
Bariatric non-slip socks
Bariatric oedema slipper socks are comfortable, breathable and provide a sense of security with the double tread grip. They are designed to fit swollen feet, ankles and legs. Furthermore, they can accommodate bandaged legs. The sock stretches to 64cm around the calf, and to 44cm around the foot.
Larger amounts of swelling can potentially cause mobility issues, increasing the difficulty of walking around and balancing. Double tread non slip socks give some security when walking around your home or facility, by reducing the risk of falling. Find the socks here.
---
Read more from us…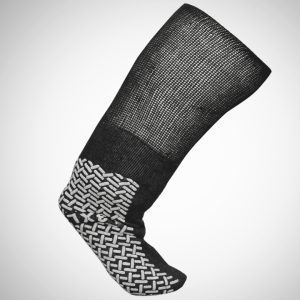 Falls awareness week with Hull University Teaching Hospitals NHS Trust
Interweave combats Covid19 with 880 free face mask packs
Sources