What do UK care workers wear?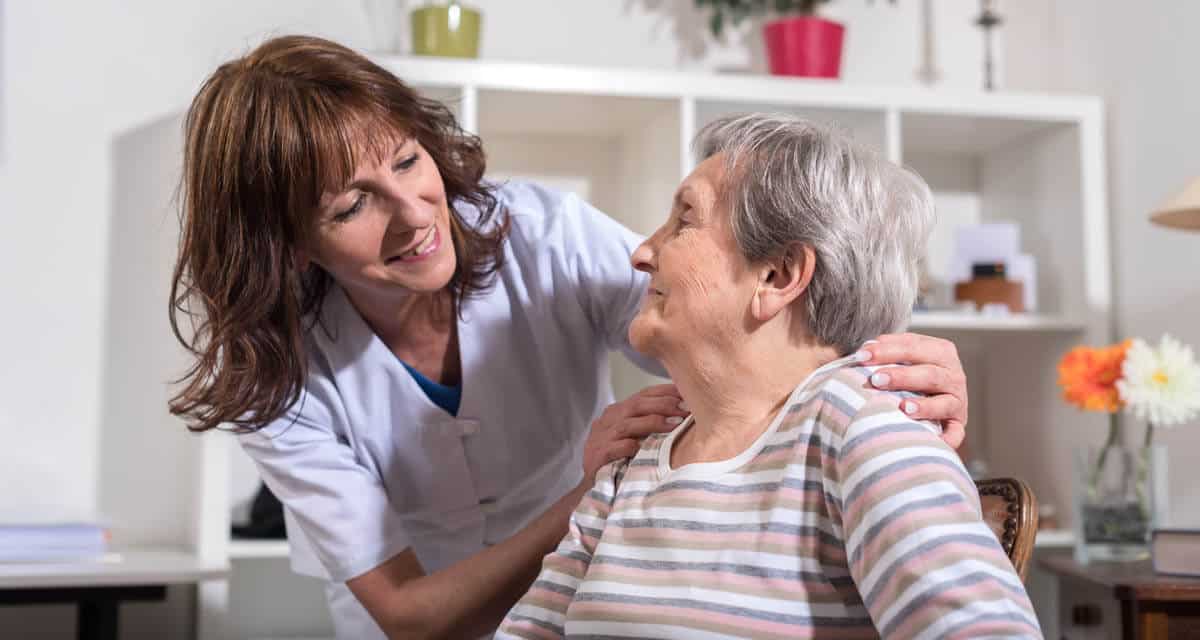 On the whole, UK care workers in both care home environments and in-home care roles, tend to wear a uniform. But what kind of uniform do care workers wear, you ask..
The UK care home uniform typically consists of a tunic and trousers with sturdy, flat shoes.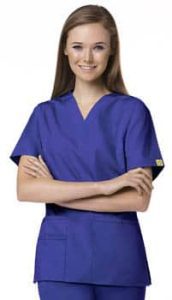 Some care homes buy the tunics and provide to the staff to wear. Care workers may also wish to choose and buy their own uniform, as there's a wide range of scrub suits and care worker tunics available, from brands such as Cherokee and WonderWink.
The tunics have high necklines, short sleeves and are longer than an average top. The tunic usually has large hip pockets for keeping everyday work essentials handy.
Identifying staff
There are many reasons why this uniform is important for care workers. Firstly, in a care home, the service users and relatives can easily spot staff if they are wearing a uniform. In some care homes, the staff wear different colours of the same style uniform to identify their role or seniority in the team.
Building trust
Wearing a uniform also helps portray a sense of professionalism and trustworthiness. Residents are comforted that they are in good hands. Likewise, this knowledge makes it easier for relatives to walk away at the end of visiting time.
Improved teamwork
Care workers wearing the same uniform can help develop better work relationships too, as is true in all businesses. Working in a care home can be very rewarding but can also at times be very demanding and physically hard work. Promoting a common goal, wearing the same clothes and encouraging better teamwork can help care workers feel more comfortable, less stressed and they will be more likely to stay happily employed in their role for longer.
Infection control
As a care worker, it's important to take responsibility to follow infection control guidelines. This will help to prevent a nasty outbreak in the care home. Part of this procedure involves staff wear a common uniform that can be laundered at thermal disinfection temperatures.
Footwear considerations
When choosing footwear to wear with care worker uniform, it's not a time to choose fashionable shoes! They should be sturdy and comfortable to wear even after you've been standing up for long periods.
In addition to this, be aware that your feet may be run over by a wheelchair, so shoes should always have a closed toe – no sandals! Shoes with closed toes and made of non-absorbable material protects your feet from accidental spills too.
Avoid anything dangly
Care workers caring for people with dementia or with learning disabilities should avoid wearing anything that dangles or that could be pulled. Residents may unwittingly grab and pull, causing unnecessary injury to the carer. For this reason, all jewellery should be taken off before putting the uniform on and long hair should be tied up neatly.
Wearing pyjamas at work
A different type of uniform has been trialled by some care workers, that they wear a couple of hours leading up to the residents' bedtime. In the evening, the staff change out of their regular uniform and put on pyjamas and dressing gowns to encourage the residents to do the same!
Divided opinion remains
However, there continues to be a divided view on this topic, with some care home managers preferring to have their staff dressed in a uniform, and others who prefer a more at-home approach with staff wearing casual clothes.
In a carehome.co.uk poll of 2,000+ voters, 62% of people thought that care home workers should wear uniform in care homes and 29% voted against – with the remaining 9% not committing either way.
---
Read more 
Benefits Of Music In Care Homes
Carer's Guide To Medical Abbreviations
---