Why should you wear turquoise scrubs?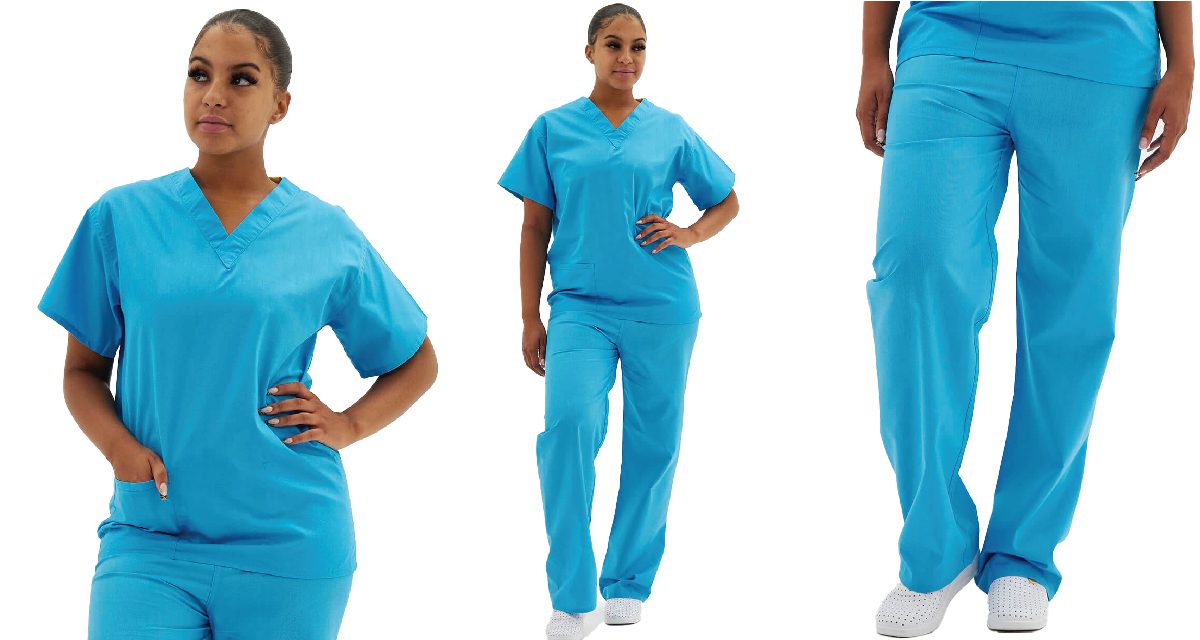 Blue scrubs are one of the most common and popular scrub colours. You may have seen a variety of shades depending on where you have been, hospitals tend to have a mixture of light, dark and navy-blue scrubs!
The colour turquoise
The blue colour family is associated with calmness, peace, and relaxation, often used in spas! Therefore, you will see blue colours in many healthcare facilities interiors such as hospitals or dentists try and help nerves.
Not only do we see blue as peace, but we also tend to see blue as clean. Blue colours can conjure images of tidy and clean spaces, which is an ideal image for any healthcare professionals to portray.
This clean, crisp, and professional image is important for patients, and can make them more likely to trust their healthcare providers.
Why should you choose turquoise scrubs?
Turquoise scrubs are bright and bold, so if you like to look both fun and professional, these are the ideal scrub suits for you. The colour is very flattering and will make you feel your best.  In addition, turquoise scrubs blend in well with many different healthcare settings, while giving you an edge!
Interweave turquoise scrub suits
Our brand new turquoise scrubs have a clean and bright look, and therefore are flattering to many skin tones.  In addition, this particular colour is a popular choice that makes you look professional and approachable.
Bright, comfortable, and durable scrub top made from a polycotton material. Can be laundered at thermal disinfection temperatures.
Fully reversible V-neck top
Short sleeves
Colour coding around the neck for easy identification
Hip pocket on inside and outside
Lightweight
Made from a lightweight, easycare and comfortable polycotton material. Featuring a useful square pocket, which available on both the inside and outside. Can be laundered at thermal disinfection temperatures.
Tie waist
Fully reversible
Colour coding around the back of the waist for easy identification
65% polyester & 35% cotton
Watch our turquoise scrubs in action here.
---
Read more 
The meaning of green: Why do doctors wear green scrubs?
Provision of healthcare for children in hospital
Is healthcare on demand a game changer?
---
Sources