Pillow Menu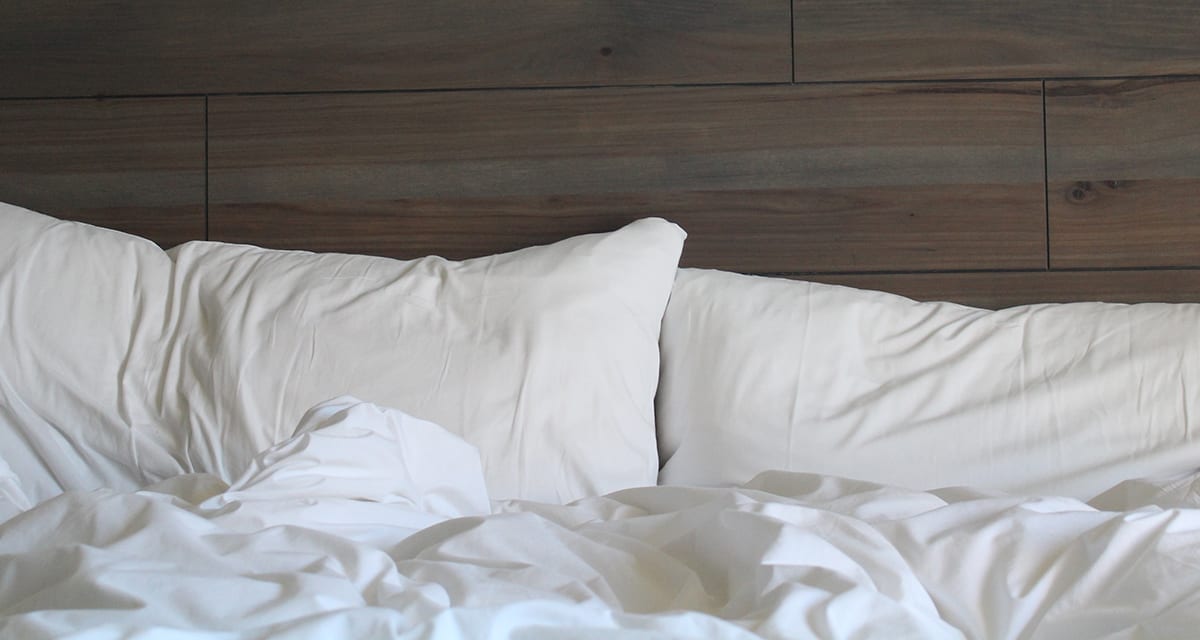 We sleep for one third of our lives, which is why comfortable and restful sleep is vital. People with health conditions may sleep even more than the average person. This makes bedding decisions for hospitals and care homes even more important to their patients well-being.
Sleep helps our bodies and minds repair, so a happy sleep environment is key to our health.
There are a variety of factors which influence a person's sleep or rest. A critical element of getting a restful sleep or being comfortable when resting are pillows. Pillows are vital to rest and recovery, particularly for those who are recovering from surgery, illness or may be bed bound.
Comfortable pillows
We know the comfort of patients in hospitals is a priority for their recovery and overall wellness. Patient's staying in hospital overnight may feel anxious. Therefore providing them with a comfortable bed environment to sleep in can ease those worries.
Additionally, care home residents are likely to need extra comfort when resting and sleeping, particularly if they are elderly or unwell.
Some of the most important qualities in a comfortable pillow are the temperature regulation, upper body support, material it is made from and the shape of the pillow.
For this reason, we have created a pillow menu to showcase the variety of pillows we have available online. There are a variety of needs and considerations when purchasing pillows. To solve this, we supply a range of different pillow types, from waterproof to flame retardant, as well as different sizes and styles.
Here is a handy visual pillow menu for finding the right pillow.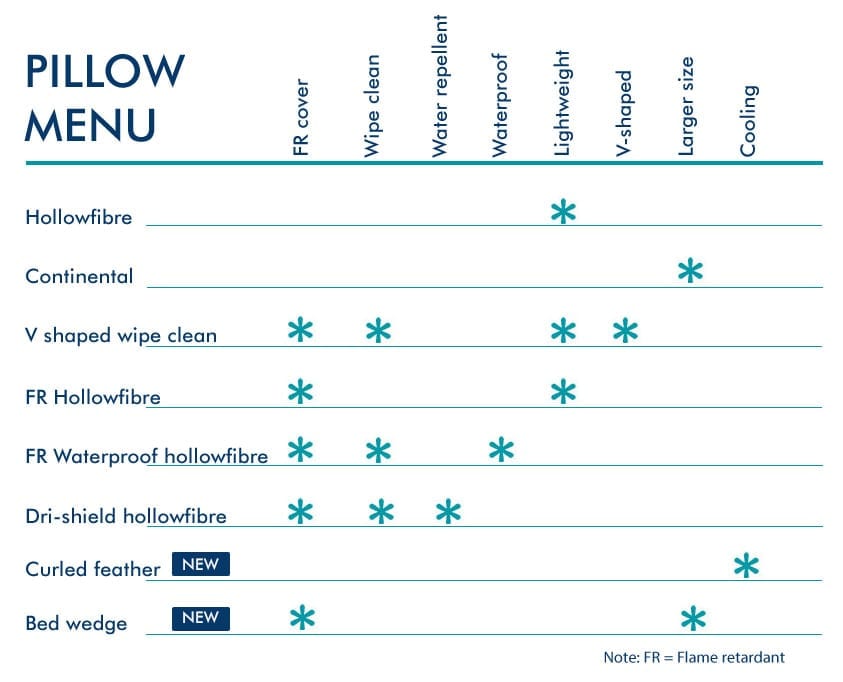 NEW IN
Bed wedge pillow
Unlike our traditional pillows, the bed wedge pillow is designed to slightly raise the sleeper to help relieve some health issues and snoring. As well as its practical design, the bed wedge pillow features a washable cotton cover which is also flame retardant. The pillow has zips of three sides for easy and stress-free removal.
Read more here.
Curled feather pillow
This particular pillow is known for its comfort due to being more breathable than some synthetic fillings used in other pillows. The feather pillow is ideal for hot sleepers, as they help the sleeper to stay cool at night. Compared to other pillows, the curled feather pillow has a flatter design. Cooling pillows can reduce whole body temperature and improve quality of sleep.
Read more here.
PILLOW MENU
Flame retardant waterproof polyester hollowfibre pillow
Made with a hollowfibre filling, this pillow is extremely practical as well as providing comfort to the user, the filling creates a bounce-back type of pillow which patients enjoy.  Significantly, the pillow is both waterproof and flame retardant as the pillow seams have been welded with ultra-high frequency to ensure it remains fully water repellent.
Read more here.
Dri-shield wipe clean polypropylene pillow
The pillow is available in a standard size, making is easy to fit into your collection. Moreover, this pillow is lightweight, comfortable and cost-effective. The pillow is a popular choice due to its wipeable pillow cover, making it easy to use and clean. Furthermore, the pillow is flame retardant to BS7175 Source 5 for peace of mind.
Read more here.
V- shape wipe clean pillow
Different to our other pillow options, this pillow features a V-shape design. Lightweight and comfortable, this pillow supports the head, neck and shoulders of the patient and ensures they are supported. Additionally, the V-shape pillow has a wipeable outer cover for easy cleaning and is flame retardant to BS7175 Source 5.
Read more here.
Continental size pillow
Larger and heavier than a standard pillow, the continental size pillow weighs 650g.  The cover of the pillow is made from an easycare polycotton fabric. The size of the pillow promotes comfort for the user, and the hollowfibre filling makes the pillow squishy and comfortable to use.
Read more here.
Hollowfibre pillow
The hollowfibre pillow comes in a standard size, making it easy to find fitting pillowcases. Like the continental pillow, the hollowfibre filling provides full comfort for the user. The hollowfibre pillow is both comfortable and durable, they are long-lasting and ideal for standing up to wear and tear.
Read more here.
Flame retardant hollowfibre pillow
This pillow features a Proban treated pillow cover making it compliant with BS7175, which makes this pillow a popular choice among hospitals and care homes. The standard size pillow makes it easy to integrate into your existing bedding collection. In addition, the hollowfibre pillow is cosy and comfortable for the sleeper, making it a best-selling hospital grade pillow.
Read more here.
---
Read more 
Decrease In Work Related Injury In 2020
Donation To The Overgate Hospice
---
Sources