A Carer's Guide To Medical Abbreviations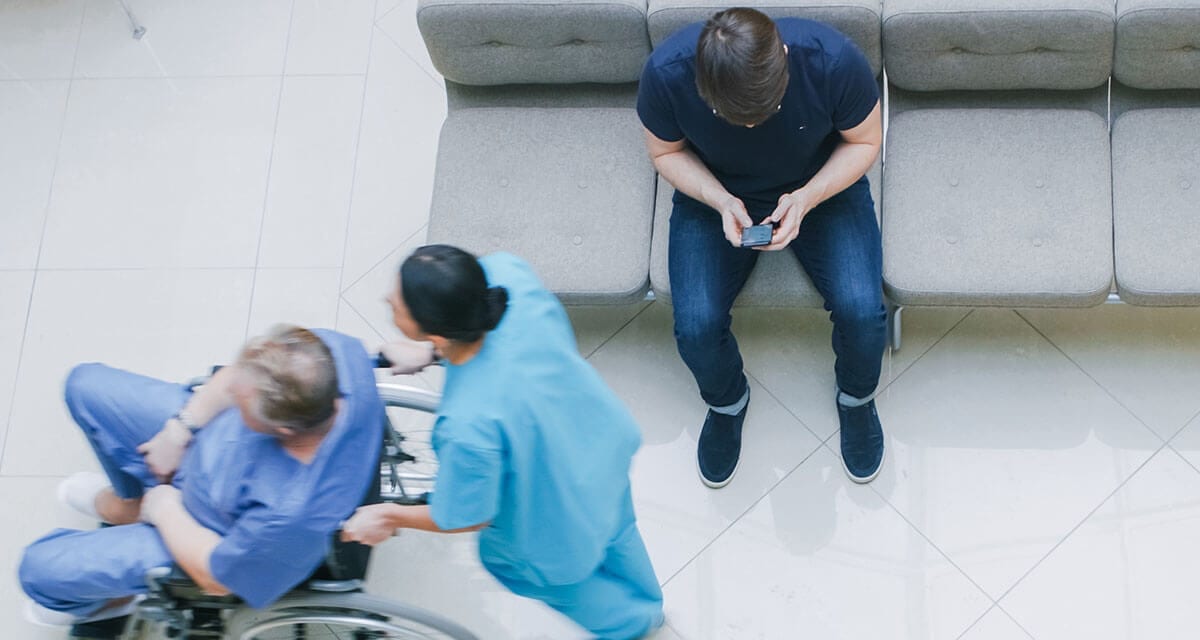 Carers UK tells us 6,000 people in the UK become carers every day, and that they need support. Whether you are an experienced carer or you are just finding your feet. We have collated a list of medical abbreviations that might help you, as we know this side of caring can be daunting and confusing, especially if you have no experience with medical care.
Caring for family or friends can be challenging. Adjusting to this change can be physically and emotionally demanding, particularly if you are new to your responsibilities. Becoming a carer will look different for everyone, you may help with cleaning, errands, cooking, or you may also medically care for someone. It is likely that at some point in most of our lives, we will have the responsibility of caring for a friend or loved one in some capacity. This really is a thing which can affect us all.
Medical Staff Abbreviations
Starting with medical staff abbreviations, these are people or organisations you may meet with or need to talk to at some point, depending on who you are caring for. Knowing who you are interacting with can help you feel more confident and ease the difficulties of medical care on someone's behalf.
It is important to note that abbreviations can differ from place to place, and some abbreviations can also mean different things. If you are struggling to understand medical abbreviations and need advice or clarification, contact your GP.
AHP – Allied Health Professional
AP – Assistant Practitioner
ACT – Acute Care Team
BMA – British Medical Association
CAU – Child & Adolescent unit
CCT – Community Care Team
CPN – Chief Psychiatric Nurse
CDU – Clinical Decision Unit
CMO – Chief Medical Officer
CMHT – Community Mental Health Team
CAMHS – Child & Adolescent Mental Health Services
CC – Care Co-ordinator
CLN – Clinical Lead Nurse
CMNH – Community Mental Health Nurse
DN – District Nurse
DHS – Family Health Services
EAU – Emergency Assessment Unit
FHS – Family Health Services
FNP – Family Nurse Practitioner
GSCC – General social care council
HCA – Healthcare Assistant
HSCIC – Health & Social Care Information Centre
ICT – Integrated Care Team
IPN – Infection Prevention Nurse
LA – Local Authority
MHLT – Mental Health Liaison Team
NA – Nurse Assistant
NP – Nurse Practitioner
OT – Occupational Therapist
PAS – Patient Administration Service
PALS – Patient Advice & Liaison Service
PCA – Patient Care Assistant
PCT – Primary Care Trust
PTS – Psychological therapies service
RN – Registered Nurse
RNLD – Learning Disability Nurse
RO – Responsible Officer
RMN – Registered Mental Health Nurse
SLT – Speech & Language Therapist
SpR – Specialist Registrar
SN – Staff Nurse
UCC – Urgent Care Centre
Common Medical Abbreviations
Caring for someone with extra medical needs is complex. You may feel overwhelmed with the amount of information available and you are likely to have many questions. It is natural to feel this way, as you want the best for the people you care for.
If you are struggling to read someone's medical records, or are researching their condition, you may come across some information you feel like you need to be a doctor to understand. Not to worry, here is a list of common medical abbreviations used by the NHS and other medical staff to help you understand the things you might come across as a carer to help you feel more confident.
A-H
AAA – Aortic Abdominal Aneurysm
AAND – Allow A Natural Death
A.C – Before Meals
ACS – Acute Cardiac Syndrome
AF – Atrial Fibrillation
ADM – Admission
ASI – Appointment Slot Issue
AUR – Acute Urinary Retention
ATSP – Asked To See Patient
BPD – Borderline Personality Disorder
BD – Twice A Day
BMI – Body Mass Index
BP – Blood Pressure
BLS – Basic Life Support
CVP – Central Venus Pressure
CBT – Cognitive Behavioural Therapy
CAUTI – Catheter Associated Urinary Tract Infection
CCH – Care Closer To Home
CHC – Continuing Health Care
CHD – Coronary Heart Disease
CIBH – Change In Bowel Habits
CMD – Common Mental Disorder
CVA – Cerebrovascular Accident (Stroke)
Dx – Diagnosis
DVT – Deep Vein Thrombosis
DIB – Difficulty In Breathing
DNA – Did Not Attend
DNR – Do Not Resuscitate
EI – Early Intervention
ECG – Electrocardiogram
ENT – Ears, Nose, And Throat
EOLC – End Of Life Care
EPS – Electronic Prescription Service
FBC – Full Blood Count
GAD – Generalised Anxiety Disorder
H/O – History Of
HX – History
HTT – Home Treatment Team
I-W
i -1 Tablet, ii -2 Tablets, iii -3 Tablets
IX – Investigations
IHA – Initial Health Assessment
IP – Inpatient
LRTI – Lower Respiratory Tract Infection
LTC – Long Term Conditions
LFT – Liver Function Test
MCA – Mental Capacity Act
MFFD – Medically Fit For Discharge
MUR – Medicines Use Review
MSK – Musculoskeletal
NAD – No Abnormality Discovered
NBM – Nil By Mouth
Nocte – Every Night
NG – Nasogastric
NKDA – No Known Drug Allergies
OP – Outpatient
OTC – Over The Counter
O.D – Once A Day
O/E – On Examination
PAR – Patient At Risk
PE – Pulmonary Embolism
PMH – Past Medical History
PRF – Patient Report Form
PRN – As Required (On a prescription)
PYLL – Potential Years Of Life Lost
P.C – After Food
P.O – Orally/ By Mouth
P.R – Rectally
PU – Passed Urine
PT – Physiotherapy
QDS – Four Times A Day
ROM – Range Of Movement
RTT – Referral To Treatment
RX – Treatment
SEN – Special Educational Need
SLT – Speech & Language Therapy
SOB – Shortness Of Breath
TDS – Three Times A Day
TFT – Thyroid Function Test
THR – Total Hip Replacement
TIA – Transient Ischaemic Attack ("Mini" Stroke)
TTO – To Take Out (Drugs On Discharge From Hospital)
TTA – To Take Away (UK Medications Supplied On Discharge)
TTOM – To Take Out Medicine
U.D – As Directed
UTI – Urinary Tract Infection
VTE – Venus Thromboembolism
Wt – Weight
WIC – Walk In Centre
Easing The Strain On Carers
As well as the medical jargon involved in caring for someone, carers also face physical challenges in their daily lives, helping others with their mobility, hygiene, and cooking. These are some products that are commonly used by carers and in care homes, which help with these challenges.
Slipper socks
Slipper socks are used in hospitals to protect patients from slipping, they are also popular with recently discharged hospital patients, elderly people, people with dementia and other vulnerable individuals. Available in single tread and double tread, and in sizes from XS-XXXL, there are slipper socks to suit everyone. They can provide the carer with peace of mind and the give the individual some independence.
To view this product, click here.
Cellular blankets
These types of blankets are used frequently in hospitals and care homes. Cellular blankets are woven with cell-like holes in the pattern. The holes in the blanket allow air to move into the fibres, this makes them ideal for the warmer months. Cellular blankets can be lightweight for the summer, and you can use multiple blankets in the winter for warmth.
To view this product, click here.
Bed ladder straps
Bed ladder straps are useful for the elderly or infirm to be able to sit up in bed when they desire, without the help of others, which can give someone a sense of independence. This is beneficial for them and for yourself. When you are busy with other tasks, or cannot be in the room, patient handling accessories such as this can relieve some of the pressure you may be feeling.  
To view this product, click here.
Rota cushion
A rota cushion allows a patient to be effortlessly rotated in a smooth motion to face a different direction without any pain or twisting of the body. These discs are used by nurses, physiotherapists, and nursing home staff. They can be purchased in multiple sizes for whatever your needs are.
To view this product, click here.
More Resources
If you are looking for extra support, the NHS has excellent online resources to aid you in your responsibilities. You can find information on medications, caring allowances, making decisions on behalf of others and much more information. Click here to check out those resources.
---
Read more 
Benefits Of Music In Care Homes
Well-Designed Hospital Gowns – A Game Changer?
---
Sources
[1] Carer data
[2] Abbreviation data