Interweave scrub ranges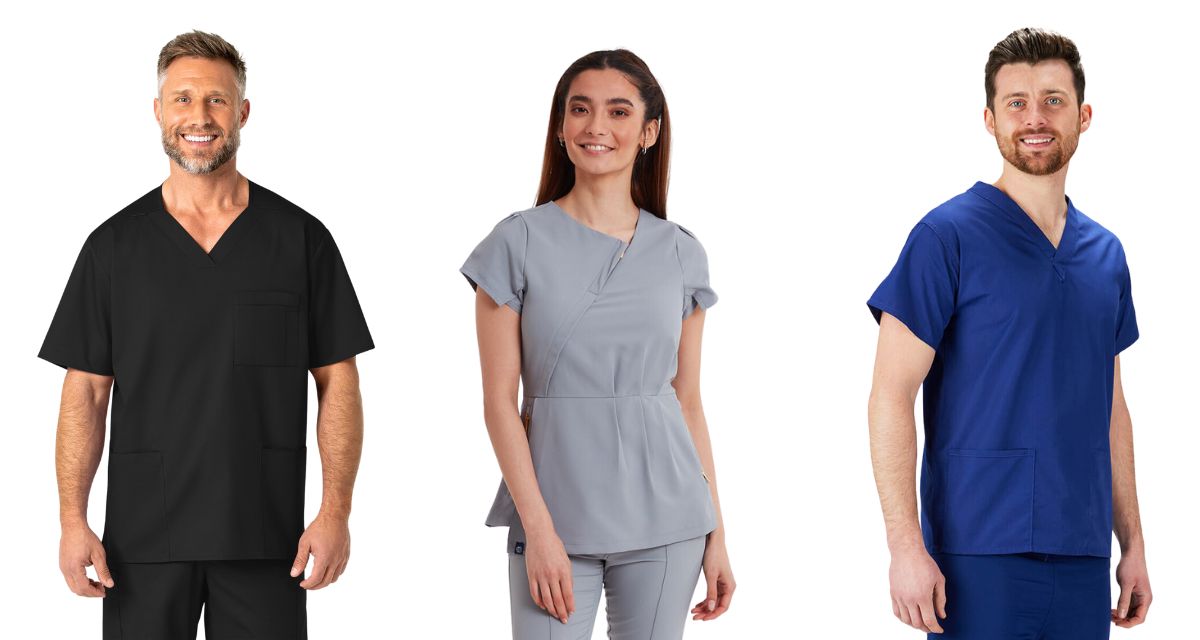 Our range of scrubs has grown, to include premium scrub brand Kara. A division of Interweave Healthcare. Combined with our existing NHS essentials range, and popular WonderWink options, you can now find various high quality scrubs for your role or organisation. If you are looking to buy medical scrubs for your facility, or yourself, we can help.
To help you choose the right scrubs for you, we have collated the features of each range in one handy place. You can order scrubs online, or contact us for bulk orders if larger quantities are needed.
Kara Edit
From our premium scrubs division, Kara, comes the Kara Edit range. Designed in the UK, prioritising style as well as function. Available in 3 modern, classic colours, and 10 unique styles.
Key features:
Water and hair resist fabric
Easy iron, less creasing
Breathable and soft to touch material
Motion stretch
3 colour options: Black, navy and grey
Variety of styles: 4 women's tops and trousers, 1 men's top and trousers
Unique details such as: Gold zips, cuffed ankles, elasticated waist
NHS Essentials
Our essentials range of scrubs are popular with NHS customers, and other medical organisations. Basic, comfortable, unisex scrub suits in a wider variety of colours and sizes.
Key features:
Wider sizing options available
8 colours, largest range of colours
Unisex
Relaxed, oversized fit
Colour coding around neck and waist
Polycotton fabric
Popular with larger teams and facilities
WonderWink WonderWORK
Designed for work, WonderWORK is part of the WonderWink family. Popular USA scrubs, in a variety of colours and styles. Classic, popular styles such as V-neck tops and straight leg trousers.
Features:
Mixture of female, male and unisex options
Wide range of colours
Useful pockets
Durable fabric
Classic, professional fit
Matching scrub cap available
Shop scrubs
You can shop these scrub ranges online quickly and easily. Browse scrubs here, or you can contact us to order if you have specific needs. Take a look at our helpful information in each of product pages. Find delivery information, size guides and bulk discount options.
To buy medical scrubs from us, you can shop by specific ranges, or try our shop by scrub tops and shop by scrub trousers function.
All the best,
The team at Interweave