Interweave installs solar panels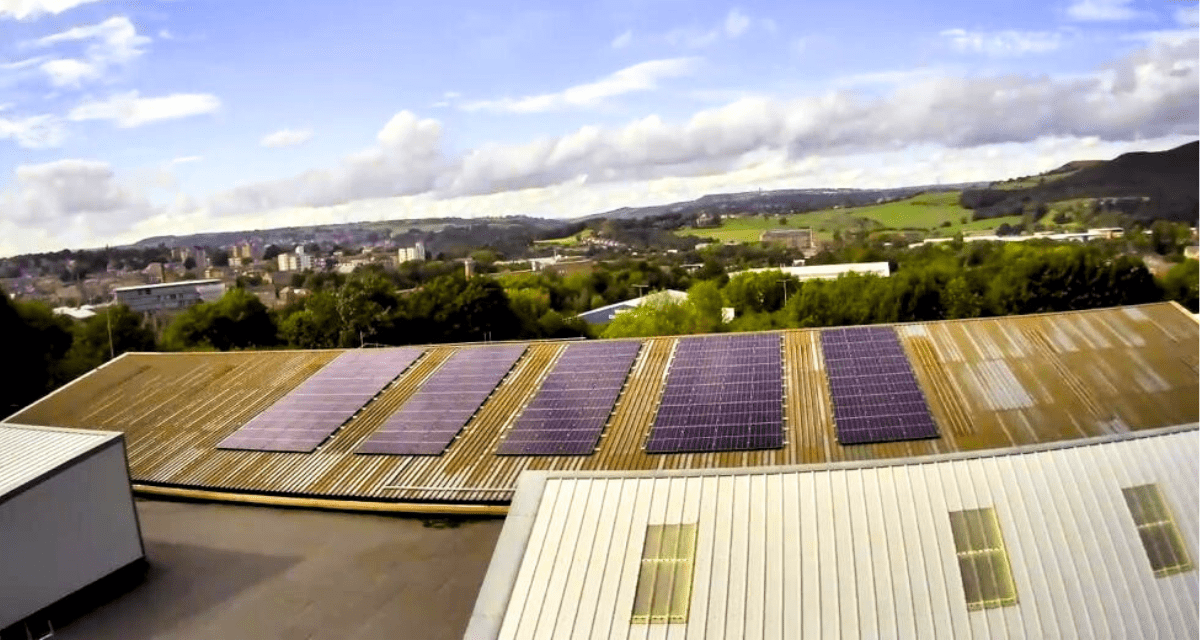 As part of Interweaves sustainability journey, we are constantly looking at ways to improve the efficiency of our operations. This is why we made the decision to explore the use of solar energy to support our warehousing operations. This year, we installed a solar panel scheme at our warehouse, Victoria Works, helping us reduce our carbon footprint both today and in the long term.
Solar energy is very reliable and dependable, supporting our traditional energy supply with no interruptions. Allowing us to prepare, pack and send out your orders without delay.
In tandem with the solar panel installation, we have also replaced a large part of our roof, making the installation a considerable task. We have replaced 30,000 sqft (35% of total) of the warehouse roof structure, replacing the oldest roofing material with modern, 80mm composite insulated panels. This will reduce our energy requirements significantly, by minimising heat loss and hugely increasing the amount of natural light into the building.
What are the benefits of solar energy for business?
We are all looking to the future, and how we can make changes to protect our planet. Investing in renewable energy is an excellent way to future-proof operations and contribute to reducing our CO2 emissions. There are several reasons why solar energy provides an ideal energy choice for our business:
Reducing emissions
Prior to installation, a simulation was carried out to show how solar energy would work at our warehouse. The results found that 8.17 tons of CO2 emissions were saved. An equivalent of 375 trees being planted. This has an extremely positive impact on our local community, which is very important to us.
According to the eco experts, "if solar panel owners want to make their panels carbon neutral, they'll need to have their panels for just three years."  Additionally, as solar panels last a long time, emissions from repairs and replacements are limited.
High performance
Solar power is not only reliable, but also high performing. The technology within renewable energy has been constantly improving, becoming more efficient every year. Solar energy allows less reliance on non-renewable energy sources, making us less susceptible to outages and issues.
The estimated energy produced through the solar panels in the warmer months, April to August, makes a significant contribution to the energy our warehouse would consume in this period. Across many of these months, solar energy is estimated to produce over half of the energy we need to operate as expected.
Sustainability
Future-proofing our business is vital, and looking after the planet is a responsibility that we all share. Choosing solar power reduces our contribution to local and global emissions. A part of sustainability is building things that will last. Solar panels can last a very long time, and require little maintenance, therefore they are unlikely to disturb operations.
The UK aims to reach net zero by 2050, with a focus on the use of renewable energy. The National Grid explains that as part of this net zero strategy, the government set energy providers with a target for all electricity to come from 100% zero-carbon generation by 2035. Highlighting the importance of making steps towards a sustainable future as early as possible, to contribute to national environmental goals.
The future
We are proud to be taking action to create a sustainable future. As a company, we understand our responsibility to care for the environment, and our local community. We will continue to look for and seek out new opportunities to make our operations more sustainable. Watch this space!