How to Wrap a Baby in a Blanket?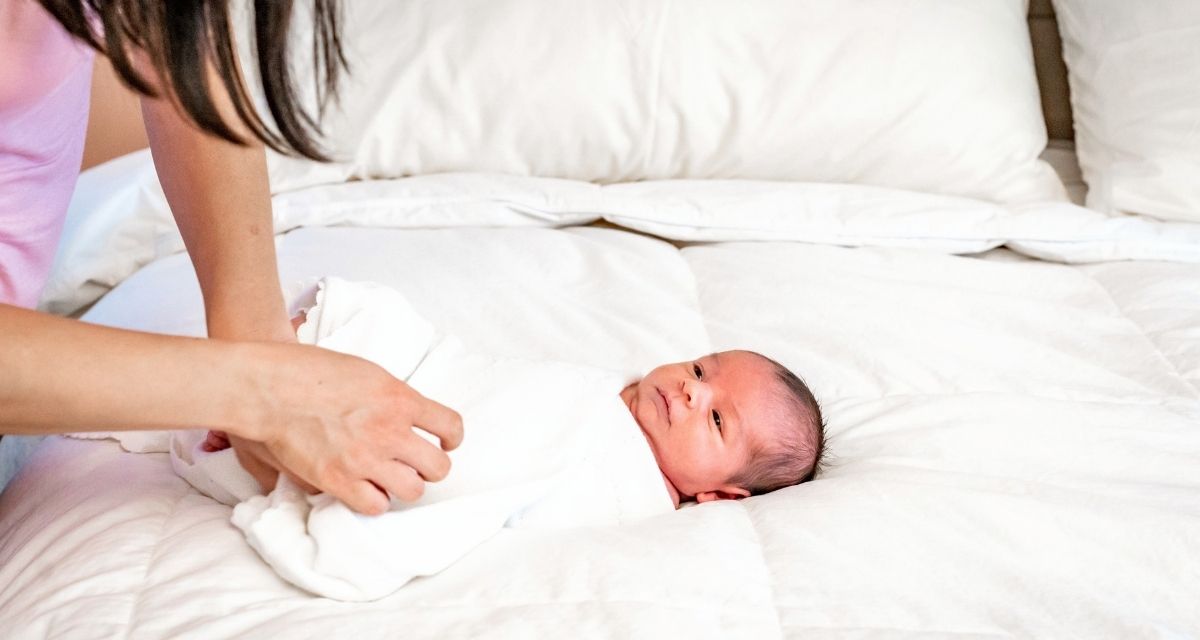 Wrapping or swaddling a baby is a traditional method to help a baby feel safe and cosy. This help the baby relax and go to sleep, by replicating womb conditions. While this may seem complicated, it can actually be easy. Follow these simple steps to wrap a baby safely and easily in a blanket.
How to wrap a baby in a blanket (swaddling)
You can purchase blankets that are specific for swaddling, but generally, a 100cm x 100cm thin blanket should work well. Ensure the blanket is a high quality material, soft, comfortable and not too thick.
1: Lay the baby on a flat surface, such as a bed or changing mat.
2: Fold the top of the blanket over, creating a diamond shape.
3: Place your baby down on their back on top of this blanket shape.
4: Move your baby's left arm down to their left hand side carefully.
5: Pull the blanket around your baby from left to right. Tuck this side of the blanket under their back, around the armpit area.
6: Now, gently move the right arm to the same position as you did earlier with the left.
7: Tuck the other side of the blanket in from right to left.
8: Close up the blanket swaddle. Fold or twist the bottom of the blanket to cover the feet. You can tuck it underneath the baby's legs.
Tip: Leave room for the baby's legs and feet to move comfortably. Ensure you can fit 2 fingers between the chest of the baby and the blanket. This ensures the blanket is not too tight. Do not swaddle higher than the shoulders.
Benefits of swaddling
1. Helps baby feel warm and protected, by replicating the experience of the womb.
2. Helps baby sleep more easily and become more relaxed and sleepy.
3. Prevents excess wake up's from the baby's natural reflexes.
Risks of swaddling
1. There is a risk of overheating if swaddled incorrectly or with the wrong blanket.
2. Could increase the chances of developing hip dysplasia.
3. Wrapping a baby too tight prevents their natural movement, and may in a very minor number of cases impact development.
4. Introducing at the wrong time is not advisable, either swaddle the baby from birth or decide not to.
Baby blankets
We have a range of cot blankets and baby blankets available for different needs. Be sure to research the specific kind of blanket suitable for swaddling your baby.
---
Sources
https://www.babycentre.co.uk/a125/swaddling-what-are-the-risks-and-benefits
https://www.nct.org.uk/baby-toddler/slings-and-swaddling/swaddling-baby-benefits-risks-and-seven-safety-tips