NHS Healthcare Textiles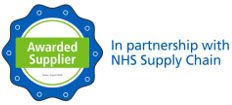 We have been an NHS approved supplier for many years, offering unparalleled customer service and after sales support. We understand the need for urgent delivery and for that reason we stock large quantities of hundreds of key products available for next working day delivery, if ordered before 2pm Monday to Friday. Read more about ordering for the NHS
Fall prevention kits
For patients who are at a higher risk of falling, they can be highlighted to all staff by providing the patient with a pair of bright yellow fall prevention socks and a bright yellow fall prevention blanket for the bed or wheelchair.  Browse the Fall prevention socks and the Fall prevention blankets.

Other products you might be interested in
Non slip socks, Slide sheets, Transfer sheets, Hospital bed sheets, Hospital pillows, Blankets, Hospital towels, Patient gowns, Scrubs and Patient warming equipment.
Browse the full range online