How do I dispose of old pillows and duvets?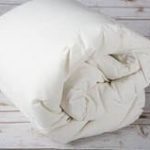 Generally, household waste collectors won't accept old duvets and pillows. Commercial waste collecting companies will accept old duvets and pillows in the landfill bin. However as they're so large, they will take up a lot of space.
Unfortunately, every year 14 million duvets, pillows and mattress toppers end up in UK landfills! So thinking of an alternative to this disposal method would be much better for the environment.
Some eco-friendly ideas you might want to consider:
Pet bedding: Some people recommend trying to donate them to a local pet refuge or sanctuary. Equally a pet charity shop may be able to take them. For example the RSPCA, who may be interested in taking old pillows and duvets for animal bedding.
Other people suggest asking colleagues, friends and family who own dogs or cats to see if they want them for pet bedding. There are approximately 12.5 million pet dogs and 12.5 million pet cats in the UK! There should be some opportunities there. Try listing your duvets and pillows on Freecycle, Olio or ilovefreegle websites.
Rabbit owners who keep their pets outdoors may be grateful for old duvets. They can wrap it around the outside of the hutch with a layer of waterproof tarpaulin on top. This acts as insulation to keep the rabbit warmer over winter. Estimates show that there may be approximately 1 million pet rabbits, of which 2/3rds are kept in outdoor hutches.
Homeless shelters: Likewise, some homeless shelters may accept donations of old pillows and duvets, as well as any old blankets.
Upcycle: Perhaps you could find a way to recycle the duvet or pillow at home or in the workplace. Such as cutting the duvet and pillows into smaller pieces and use to clean the floors, or wash vehicles. If you are handy with a sewing machine, the duvet or pillow filling could be upcycled into a craft project.  Or take out the filling and use it to fill draught excluders or floor cushions.
Composting: Other people have put cotton and feather duvets in compost bins and they have over time biodegraded down to mulch. But remember that you will need to remove all poppers, labels etc before putting in the compost bin.
If all else fails: It's worth contacting your local council, or check the recycling policies on their website to see if they have any services for this.  Find your local council website here.
You may like to:
Read other Frequently Asked Questions
Such as How often should you change bed sheets?
Or Do mattress protectors make you sweat? 
Or find out How many hospitals are there in the UK?