Falls Awareness Week 2022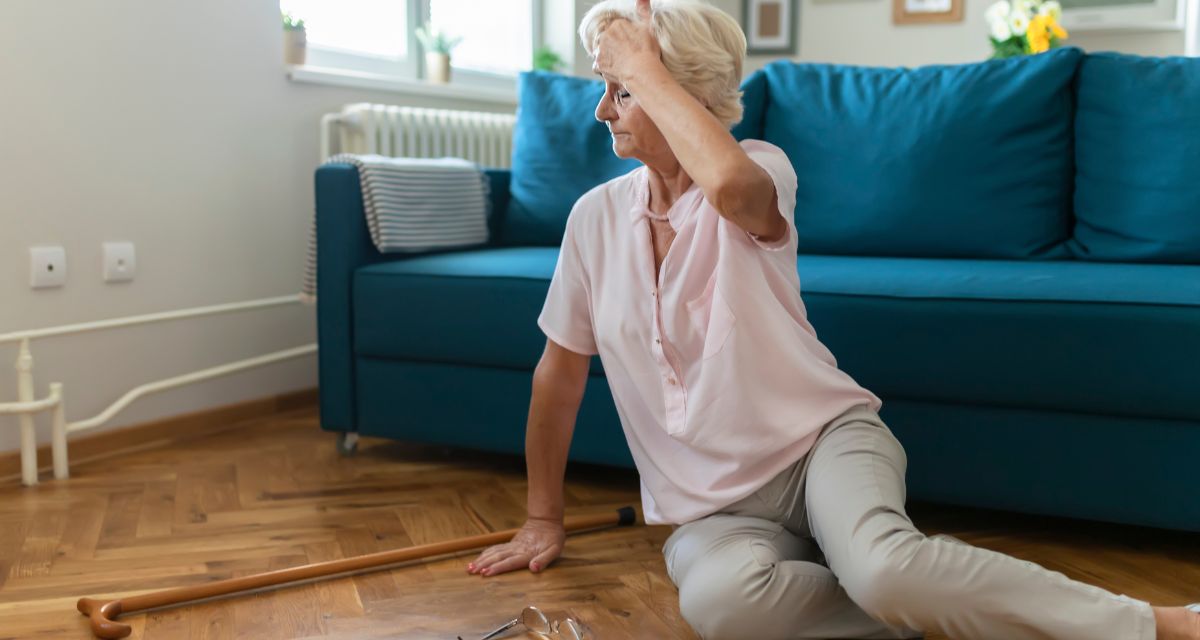 Fall prevention is an important topic particularly within hospitals, residential care and at home. Falls Awareness Week runs from 19th-25th September this year. The campaign organisers hope to increase the awareness of what we can all do to minimise falls risk for the people we care for.
As falls continue to be a public health concern, awareness and co-operation is necessary to find ways to reduce these risks. Fall prevention is a group effort, with a variety of people involved to ensure the safety of those at risk.
Why do we need falls awareness?
You may think that those at risk of falling and their carers are already aware of these risks. However, as falls awareness is a team effort, awareness must span across many different people. In addition, not everyone is aware of how they can mitigate risks, or even know what they are!
Particularly after lockdowns, many elderly people are experiencing deconditioning. Which is caused by regular inactivity, and causes loss of muscle tone and fitness levels. The indoor period we all experienced may have impacted the amount of falls going forward.
The Public Health Outcomes Framework reported that in 2017 to 2018, there were around 220,160 emergency hospital admissions related to falls in those 65 and over. With 66.6% of these being patients aged 80 and over. Falls are a leading cause of injury, and one of the highest causes of disability-adjusted life years in England in 2013, and this is not improving enough.
We may consider falls as just a home or outdoors risk. But in fact, falls in hospital are the most commonly reported patient safety incident in hospitals. Over 240,000 in-patient falls have been reported in acute hospitals & mental health trusts across England and Wales.
Who is at risk of falling?
It is easy to think we're unlikely to fall unless we're elderly. However, health conditions and patients recovering from surgery are just as likely to fall as the elderly. People with muscle and bone weaknesses or conditions; those with poor balance, the visually impaired, those on particular medicines that could cause delirium or dizziness and post-surgery patients. These groups are at a high risk in any setting, whether at home or in hospital.
Anyone can fall, for a variety of reasons. But the risk of falling does increase with age. Half of all people over 80 will fall at least once a year according to the NHS. Therefore, when caring for your patients, consider elderly patients with medical conditions or recent surgery as the highest priority. The elderly in retirement, or nearing retirement may be interested in reading this guide which outlines assisted living options
How can we prevent falls?
Improve strength & balance – Whether at home or in hospital, encourage patients to practice their balance by stretching. Also to improve their strength with light exercise and walking where possible.
#keepmoving – Ensure even the smallest of exercise is done where possible. Even a daily 5 minute walk can help!
Risk assessments – Implementing a consistent and strict regimen for fall risk assessments means less mistakes will happen.  Also, the patient will be safer.
Knowing your resources –  Make sure you're aware of the resources available to you. Have them on your ward or department in a physical capacity where possible. Also booklets and leaflets can be great reminders.
Share your knowledge – Share everything you know with your colleagues and patients. Make sure everyone you know is aware of their role in fall prevention, sharing is caring!
See yellow, think falls – Yellow is a colour often used in fall prevention, your care facility may use a wristband, blanket, or socks to distinguish fall risk patients from others on wards.
Appropriate footwear – Patients may want to wear their favourite slippers or socks to feel comfortable, and we couldn't blame them. However, ensuring patients in hospital or at home have appropriate non-slip socks to move around in is vital. They are much more effective than regular socks or slippers.
The Covid-19 impact
Coronavirus has had a large impact on every aspect of life. And of course, on public health. While many have spent time indoors and shielding, particularly those over 65, the opportunity to fall has been increased. More time spent indoors and in the garden can increase fall risks, such as tripping over items or falling down stairs.
We may not have considered that the lack of socialising, classes and gyms for a long period of time may mean more health complications for falls risks. A reduction in physical activity weakens the muscles and joints, making us more likely to fall. After the lockdown, it is more important than ever to participate in some exercise, whatever you can manage. Walking and other light exercises can reduce falls risk over time.
Covid-19 and lockdowns has made it more important than ever to #keepmoving to reduce the risk of deconditioning, or worsening of deconditioning.
Fall prevention socks
We stock a range of sizes in our popular fall prevention socks, used for homecare and bought by the NHS to ensure patient safety.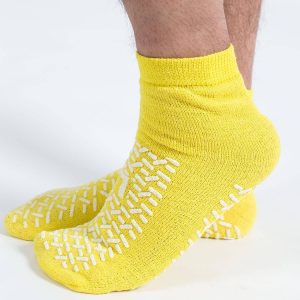 Tread on top and sole of the foot
Unisex
Stretchy fit
Bright yellow
Latex-free
Patient-specific use
---
Read more from us…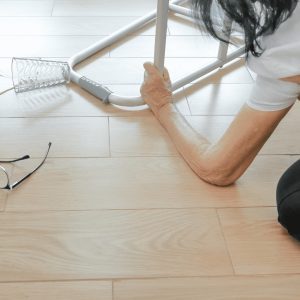 How to take clothing measurements without a tape measure
Falls awareness week with Hull University Teaching Hospitals NHS Trust
Interweave combats Covid19 with 880 free face masks
---
Sources
https://www.gov.uk/government/publications/falls-applying-all-our-health/falls-applying-all-our-health
https://www.gov.uk/government/publications/falls-applying-all-our-health/falls-applying-all-our-health
https://www.ncoa.org/article/get-ready-for-falls-prevention-awareness-week-2022
https://www.england.nhs.uk/2018/06/endpjparalysis-revolutionary-movement-helping-frail-older-people/#:~:text=Many%20frail%20older%20people%20spend,especially%20through%20lack%20of%20exercise.