Fall Prevention Products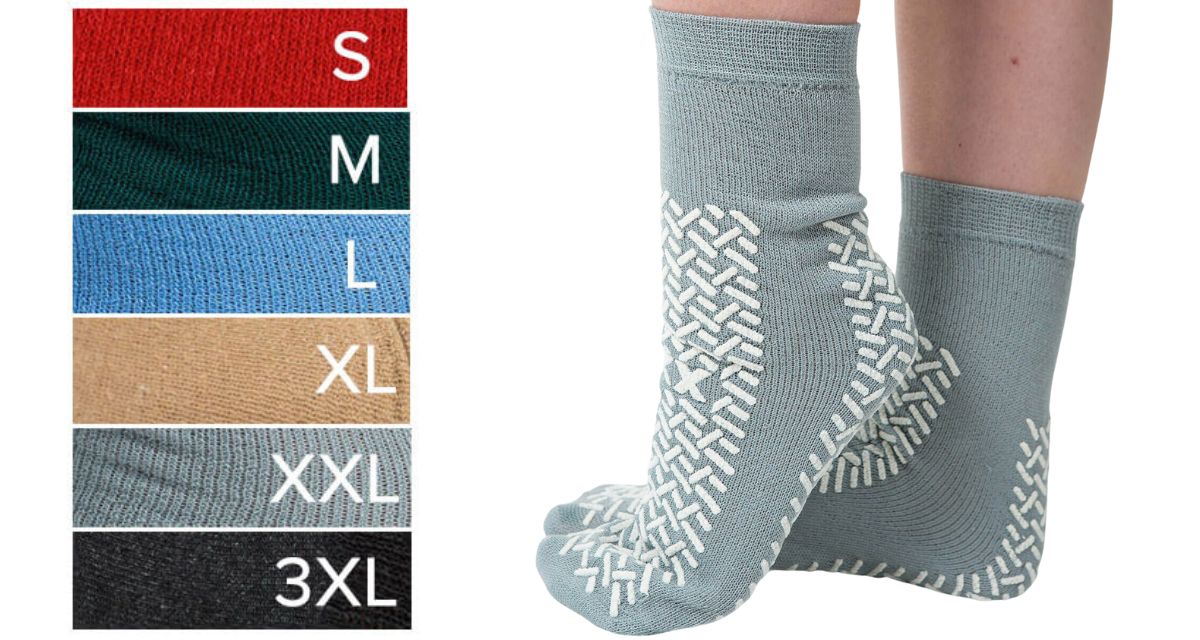 September hosts Falls Awareness Week (18th – 22nd), a campaign dedicated to providing education on falls, and how we can prevent them. At Interweave, we pride ourselves on supplying high quality fall prevention products to hospitals and care facilities. Non-slip socks promote independence and confidence when walking, reducing the risk of inpatient falls.
Explore a wide range of gripped hospital socks, including bright yellow falls prevention socks. Our extensive range includes sizes to suit all patients, from small to bariatric. You can find our non-slip socks online, via NHS Supply Chain, or you can shop direct from us.
Falls prevention socks
Our falls prevention range consists of red or  bright yellow socks. As this can be used to identify a patient at higher risk of falls. The range remains clinical staff, porters, and family members that extra precautions need to be taken with particular patients.
Sizes small to XXL
Latex free
Double sided tread for extra protection
Patient specific
Bright yellow to indicate falls risk
Available on NHS Supply Chain
Double tread socks
These socks are colour coded to represent their size. This ensures hospital staff can easily and visually identify the size needed for the patient. Featuring a double-sided tread for extra protection, should the sock be fitted incorrectly or twist when walking.
Latex free material
Sizes small to XXXL
Double sided tread for extra protection
Available on NHS Supply Chain
Highly rated by customers
Patient specific
Bariatric non-slip socks
We have expanded our range to include Bariatric / Oedematous legs, these socks are extra wide and provide comfort and breathability. The sock stretches to accommodate swollen legs, whilst remaining comfortable for the wearer.
Sock stretches to 64cm around calf
Sock stretches to 44cm around foot
Suitable for swollen feet and ankles
Available on NHS Supply Chain
Latex free material
Focusing on sustainability
This year, our slipper socks manufacturing process reduced its C02 emissions. We are focusing on reducing our carbon footprint where possible. with our suppliers, and our own activities. Our contracted mill has achieved a 47% reduction in total CO2 emissions, by reducing things such as coal usage, as well as power, steam, and water consumption.
We are committed to supporting the NHS Net Zero goals and will continue to work towards our own sustainability aims. Read the full article here.


Falls Awareness Week 2023
We are here to support you throughout Falls Awareness Week. We are improving our knowledge on falls, looking at the facts, and providing best-selling falls prevention products to hospitals and care facilities. Explore our top fall prevention products via NHS Supply Chain.
Read more from us on Falls Awareness, or visit our socials for more about falls this September.
All the best,
Interweave Healthcare