11 Care Home Activities Ideas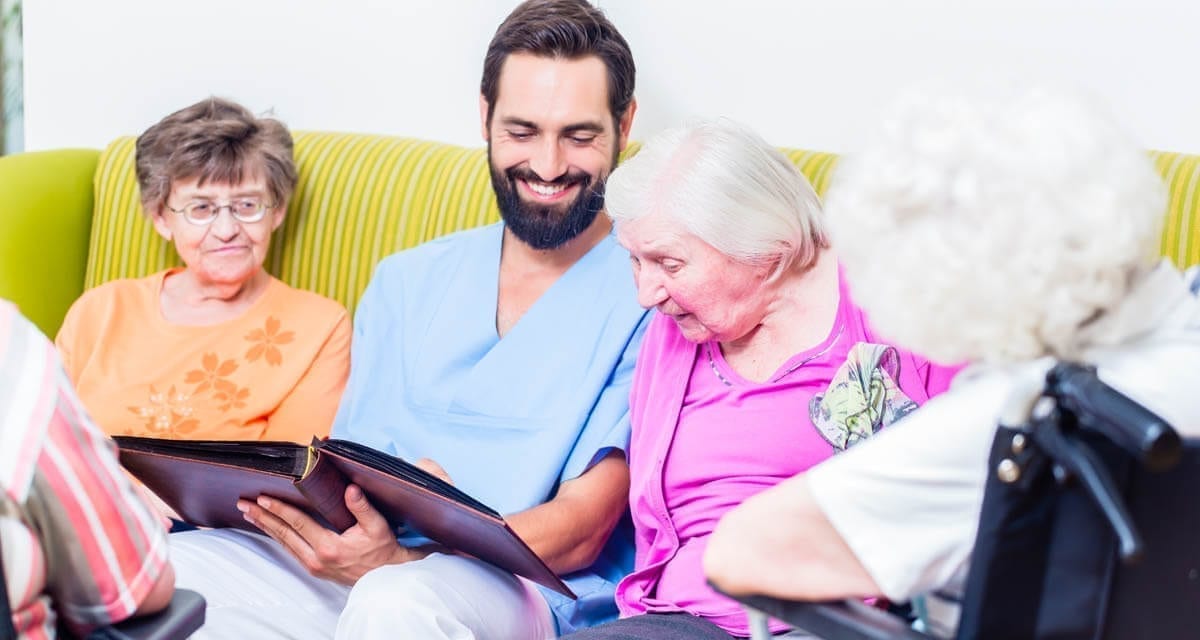 When you're working as a care home activity co-ordinator, it can be easy to get stuck in a rut. Using the same care home activities ideas and playing the same games can be comforting for some people, but others will enjoy doing something new.
We've collated a list of interesting activities that you could try out alongside the old favourites.
1. Music therapy
Lots of studies have shown that music has a positive effect on elderly people, especially those with dementia.
There are many ways you could introduce meaningful music sessions into the daily home activity schedule. For example, a live music "concert" using a local band who can play the type of music you think the residents would remember and enjoy.
For a more spiritual healing experience try a harp concert.
Arranging a sing-along for your residents doesn't need to be complicated. You could either hire a professional entertainer or organise it yourself (download lyrics online) Some say that singing along to a favourite piece of music can raise the heart rate and stimulate the brain.
On a daily basis, simply having a regular time when you play music from the 50s or 60s in a particular space in the home will give residents a chance to enjoy the music.
For a real impact, you could hire a Music Detective who works with each resident individually to design their own playlist of songs that evoke the best memories. One care home cut medication by 60% after this exercise!
2. Acting & performing
Unless you're organising activities at Denville Hall you may need some assistance in persuading your residents to get up from under their lap blankets to do some acting.
Acting a role as 'someone else' can help the resident by experiencing the emotions associated with issues such as losing life partners, poor health, loneliness and depression. This can have a positive impact on metal health – read more
Hiring a professional entertainer might be the easiest way to try out this idea. If it works, perhaps consider bringing the activity in-house, or ask a local drama school to help out.
3. Foreign language lessons
According to some, learning a new language after 50 can delay the effects of dementia.
Ask your residents if any of them know a little French or German, or something more exotic. Sarsi anyone? If they do, you could print out some basic language worksheets and ask them to teach another resident some phrases or even hold a full home class.
4. Mobile beautician & barber
Treating the residents to a little pampering will boost morale and improve self-esteem. You can paint residents' nails yourself and put their hair up in a special style. But you could arrange something more memorable by hiring a mobile beautician to do make-up and professional hair styles.
For the men in your home, perhaps arranging for a barber to visit the home would be well received. For example, the Memory Lane Barber specialises in hair, shave and beard trim for gentlemen in care homes. Don't forget the "Old Spice" to spark a few memories.
5. Host a special event
Everyone loves the excitement of a party, so why not arrange one at the home?
Some ideas include a Wine and Cheese Evening which you could invite residents' families along to as well. Perhaps a Quiz Night? Put the residents in teams and give a prize to the winners to find out who is competitive!
Along the theme of music therapy, how about trying a Karaoke Night? Be sure to have songs from the right era for your residents. It'll probably be the 1950s and 1960s, but choose the decade that most of the residents were in their teens and 20s.
A simpler event, but an enjoyable Afternoon Tea will be relished by everyone. Get out the best china, white tablecloths, cake stands and put some flowers on the table and you're all set.
Seasonal events such as Easter and Christmas can be very busy times. But you could use these opportunities to invite guests from the local community to visit the home for an event. Perhaps an Easter Egg Hunt or a Christmas colouring competition for the local children.
For each of these events, build up excitement beforehand by hand-delivering invitations to each resident a few weeks prior to the event. It'll give everyone something else to talk about.
6. Visits from local school children
Recently some care homes have received publicity for teaming up with neighbouring nursery schools and local high schools. This idea has the backing of thinktank group United for All Ages.
This partnership can involve the children visiting the elderly people occasionally, or in some cases the care home and nursery are actually co-located. Where both the young and old benefit from intergenerational interaction on a daily basis.
Arrange your own school children visits by talking to local nurseries and primary schools. Prepare some activities that both groups would enjoy, such as a sing-a-long or reading aloud some children's stories. Perhaps the children could bring along some paintings they have been working on to show the residents.
7. Adopt a real pet or soft toy pets
If you believe "a house is not a home without a pet" as many do, then you'll understand the benefits of introducing a pet into the residents' daily life. There are also studies that show the benefits of a pet in care homes. Having a furry pet to stroke is relaxing, helping residents to feel calm. Interacting with a dog or cat and watching their silly antics can be entertaining and give the residents something to look forward to.
It might not be practical to buy a furry pet to live in the home (space limitations, hygiene etc) but you could see what happens when you invite a pet therapy company to visit with their animals.
If having real furry pets is a no-go at your care home, try introducing soft toy pets to the residents. You could provide brushes and even coats to dress the 'animals'. Set up a schedule so that each resident has one-on-one time with the pet/s every week.
8. Going back in time
According to the Social Care Institute for Excellence "Reminiscing is important for elderly people, especially those with dementia issues". Dementia typically prevents recall of recent memories. Therefore revoking memories from long ago makes the person feel competent and more confident.
Providing activity time to look at old photos of either the local area or the area where the resident grew up will be enjoyable. You could turn local area history into a quiz so that everyone can join in.
Going one step further, as residents to recall their memories of growing up, getting married, having children etc and give them a scrapbook to collate cuttings from magazines to represent those memories.
To get some help from a professional with this type of activity, you could hire a History Teacher such as History 4 Homes who can run history/museum workshops for the residents.
9. Virtual reality immersion & virtual museum visits
Residents can now travel the world without leaving their armchair, by using Virtual Reality headsets!
There are companies who specialise in setting up specific 360 degree movies of places and things that a resident is interested in, such as whale watching. For example, the company Reminiscience prepare the individual movies before visiting the care home and spend time with each resident while they go on their immersive "visit".
One elderly resident watched her son's overseas wedding afterwards through the use of a VR 360 camera and headset!
A study shows that using VR in older adults can help reduce the development of Alzheimer's disease, so it's fun but definitely worthwhile for healthcare purposes too!
Recently, Google launched Google Arts & Culture which includes inside views of 100s of museums and heritage sites from around the world, for example you can see the Sydney Opera House and the Taj Mahal.
10. Meditation & seated yoga
It's well documented that yoga and meditation are beneficial for both physical and mental health. For care home residents it's best to attempt gentle, restorative yoga – nothing too strenuous.
Choose a local mobile yoga teacher who can visit the care home and can also do guided meditation sessions with the residents. In the case of the frailer residents, they can do the yoga moves sitting down and still gain the benefits of stretching and breathing slowly.
You may even be able to apply for a grant to help pay for this activity, as this care home did.
Or you could look for some free yoga sessions on YouTube and play it on a large screen. There's a variety of classes available, some focusing on specific exercises for seniors.
When you've managed a couple of downward dogs and cat/cow stretches you'll be feeling a lot better too!
11. Have a Wii!
No, not that kind of wee. You could introduce a Wii in the care home to incorporate fun physical activity easily into the residents' daily schedule.
Inexpensive to buy, you could even buy one second-hand, the Wii console just plugs into the TV so it's also very easy to set up. There's a wide range of video games to play on the Wii, although bowling tends to be the top pick amongst most care home residents who have tried it.
This care home found it very useful, even for residents who can only exercise sitting down.  The Head of Home said: "It also demonstrates that just because you are older, there is no reason why you can't also enjoy playing video games. Our residents are certainly demonstrating that age is no barrier to having fun."
Have we missed any ideas off the list? Please comment below if you've had success with any other activities in your care home. We'd love to add your ideas to the list.
Further reading: 
Infection control in care homes
---
Read more 
Benefits Of Music In Care Homes
---